US consumer sentiment rises again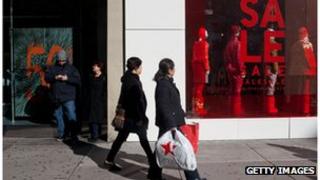 US consumer confidence rose for the second month in a row, to an eight-month high in December, new data suggests.
The Conference Board Consumer Confidence Index rose almost 10 points to 64.5 in December, up from a revised 55.2 in November.
The result beat market expectations, sparking a short-lived market rally in early Tuesday trading on Wall Street.
Analyst reaction was cautiously positive.
"It suggests there is some real improvement in the economy," said Mark Vitner, senior economist at Wells Fargo Securities. "Consumer confidence really boils down to how people feel about the labour market."
More jobs
Although separate figures released this month by the US Commerce Department showed that consumer spending rose by only 0.1% in November, the rise in consumer confidence matches a fall in the jobless rate for the same period.
US unemployment fell to its lowest level for two-and-a-half years in November according to the Department of Labor.
"Looking ahead, consumers are more optimistic that business conditions, employment prospects, and their financial situations will continue to get better," said Lynn Franco, director of the Conference Board.
Despite the upbeat mood, the stock market fell back again after an announcement that US house prices had fallen again.
The Standard & Poor's Case-Shiller index of ten major metropolitan areas fell 1.1% from a month earlier and its 20-city index fell 1.2%.
This announcement, combined with news that Sears, one of America's most well-known department stores is to close over 120 stores, left US markets trading flat overall by market close on Tuesday.