US house prices fall in October despite low rates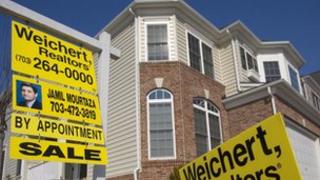 US home prices have fallen further in October despite record low mortgage interest rates, according to new data.
The Standard & Poor's Case-Shiller index of 10 major metropolitan areas fell 1.1% from a month earlier and its 20-city index fell 1.2%.
Atlanta was one of the worst performing cities, down 5% month-on-month.
Last week, government-sponsored mortgage agency Freddie Mac said average 30-year mortgage rates had fallen to a record low of 3.91%.
Chicago, Cleveland, and Minneapolis all posted monthly declines of 1% or more.
For the year, average home prices across the US were down 3.4% in the three months to October compared to the same period in 2010.
Americans have been reluctant to enter the housing market in the face of high unemployment and weak job growth.
But the house price index is seen as a lagging indicator of the market, as it is published with a two month delay, and is based on an average of the preceding three months.
In contrast, separate data released before Christmas suggest that there may have been an improvement in the US housing market in more recent months.
Home sales volumes rose in November, as did confidence among builders, who have been restarting building projects.
This other data rallied investors, who believed a recovery in the housing market was on the way.
"In light of the more positive housing numbers we've seen in the last week or so, this [Case-Shiller data] might be a bit of a disappointment," said Omer Esiner, chief market strategist at Commonwealth Foreign Exchange in Washington.