Tepco shares fall on fears that it may be nationalised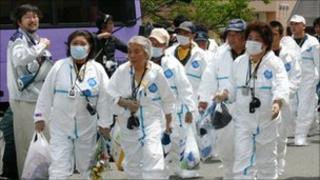 Shares of Tokyo Electric Power Company (Tepco) fell on the Tokyo Stock Exchange on fears that the utility provider may be nationalised.
It was the most actively traded stock on the bourse, falling 12% to 186 yen.
On Tuesday, the company asked the government for an extra 690bn yen ($9bn; £5.6bn) to help pay compensation claims.
Japan's energy minister Yukio Edano has asked it to consider temporary state control to ease its financial burden.
"I want the (government-backed bailout) fund and Tepco to consider a comprehensive business plan without excluding any options, including temporary state control," Mr Edano told Tepco's president Toshio Nishizawa after a cabinet ministers meeting on Tuesday.
Growing troubles
The firm has already received $7.1bn in public funds, but it faces claims and costs of almost $100bn due to radiation leaks at its Fukushima Daiichi nuclear plant.
The plant was damaged by the earthquake and tsunami in March and some 80,000 people had to be evacuated from the area surrounding it.
To add to its woes, the company has seen its operation costs increase after the twin disasters forced 15 of its 17 nuclear plants to shut down.
Tepco has since turned to thermal power stations, which require coal and natural gas, to generate electricity.
Last week, it announced that it was raising electricity prices for corporate clients for the first time in more than thirty years, saying it may not remain operational without such a move.
Mr Edano said that given the company's current situation it needs a huge cash injection to ease its problems.
"Tepco's financial base must be fundamentally strengthened if it is to pull off the cleanup from the nuclear disaster without a hitch, decommissioning the reactors and compensating victims swiftly and in earnest," he said.
Few options?
Along with the government, Tepco has also been facing increasing pressure from its lenders.
The Financial Times reported that the head Mizuho Financial Group, Tepco's second-largest lender, said in an interview that the Japanese government's commitment to financially support Tepco was one of three key conditions it had set before providing further lending.
Tepco is expected to submit a detailed business plan to the government by March next year, indicating how it plans to restructure its operations amid all the problems.
The company's president Mr Nishizawa did not indicate whether it will accept a temporary nationalisation of the firm, but said that it will consider various options.
"There were various instructions, or rather opinions, expressed by the minister," he said.
"We would like to move forward in compiling our comprehensive special business plan based on that," he added.