Tepco asked to consider temporary state control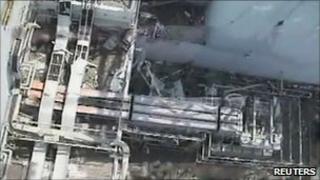 Tokyo Electric Power Company (Tepco), which operates Japan's disaster-hit nuclear plant, has been asked to consider temporary state control.
Energy minister Yukio Edano suggested it as one possible way to try to strengthen its financial position.
Tepco has also asked for an extra 690bn yen ($9bn; £5.6bn) to compensate victims of the nuclear crisis.
The firm has already received $7.1bn in public funds. It faces claims and costs of almost $100bn.
"Tepco's financial base must be fundamentally strengthened if it is to pull off the clean-up from the nuclear disaster without a hitch, decommissioning the reactors and compensating victims swiftly and in earnest," Mr Edano said.
During a meeting with Tepco president Toshio Nishizawa, he called on the power firm to "consider a comprehensive business plan without excluding any options, including temporary state control".
Tepco runs the disaster-struck nuclear plant at Fukushima Daiichi which was damaged by the March tsunami. Some 80,000 people had to be evacuated after a radiation leak.
Nationalisation?
Tepco provides almost one-third of Japan's electricity, and powers some of the most economically important areas of the country. A failure of the company would have disastrous consequences.
Mr Edano met Tepco's president following a meeting of cabinet ministers which discussed Tepco and electricity reform.
Speaking to reporters after the meeting, Mr Nishizawa said: "There were various instructions, or rather opinions, expressed by the minister today.
"We would like to move forward in compiling our comprehensive special business plan based on that," Mr Nishizawa said.
Last week, Japanese media reported that the government may pick up a two-thirds stake in Tepco, a move that would effectively nationalise the company.
Tepco and the government had both denied the reports at that time.
Desperate times
Tepco, Japan's biggest utility provider, has been facing an uncertain future since the March earthquake and tsunami.
Last week, the company announced that it was raising electricity prices for corporate clients for the first time in more than 30 years, due to a higher cost of operations.
Its latest request for additional funds for compensation came after a committee addressing compensation disputes decided on additional measures to compensate victims who voluntarily evacuated, Tepco said in a statement.
The quake and tsunami forced it to shut 15 of its 17 nuclear power plants, and resort to thermal power stations for electricity generation, increasing its fuel costs.
To make matters worse, a panel investigating the Fukushima nuclear disaster has chastised the company for being ill-prepared for such a calamity.
It said response failures and the general lack of preparation in the event of an emergency worsened the effects of the nuclear accident at the Fukushima nuclear plant.