What does 2012 hold in store for world markets?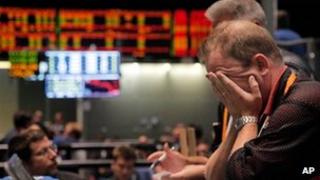 Finding a stock market that has performed well in 2011 is not an easy task.
I suppose Venezuela did okay, with a rise of 80% in share values. But with inflation a little under 30%, the currency facing another devaluation (there were two in 2010), and President Chavez recovering from cancer and facing elections, there are reasons to think it is not the most stable of places to invest your cash.
Botswana might make a bit more sense. The market chugged ahead by almost 9% in 2011. It is the world's biggest exporter of diamonds, and its economy is growing by about 5-6% a year, thanks to the mining sector, and is expected to accelerate next year.
But to be honest, as everyone knows, 2011 was a terrible year for nearly every equity market in the world. We entered the year on a certain amount of optimism that stocks could continue rising despite a plethora of macro-economic problems. By the middle of the year that proved a deeply flawed viewpoint. August then saw the sharpest falls.
But, despite the welter of bad news that assaulted investors on an almost daily basis, the markets did not collapse. Instead they traded between bands, refusing to break out either upwards or downwards. The FTSE, for instance, never broke convincingly out of the 5,000-5,500 band.
Surely if they can keep from falling further in the face of such bad news, markets must have reached a bottom.
'Condemned to volatility'
Indeed a large number of equity strategists refuse to be downbeat about the markets. Jamie Stewart, director at Eden Independent Research Services, believes that traditional market valuations are being ignored.
"What is so frustrating is that the market recognition of value, of under-valuation or over-valuation, has gone by the board in favour of political concerns," he says. "Until they do return to that basic understanding of valuation then we are condemned to volatility and uncertainty."
He believes that it will not be until the end of 2012 that the market will reach a proper bottom, though he adds: "That doesn't mean we'll be going down all the way until then. It will be a lot more neurotic than that - driven largely by politics."
Indeed, there seems to be a consensus that the equity markets will be driven by politics for the first half of next year. But, looking beyond that, some economists are remarkably positive.
"We are having significant reforms in a number of countries from Spain to Italy to Portugal, even in Greece and Ireland. These reforms add up to something really very powerful," says Holger Schmeiding of Berenberg Bank.
"If the eurozone keeps together, and I repeat IF, then in half a year to a year, the euro crisis will be over and the eurozone will emerge as a reformed and dynamic economy. But it does take time. And in the meantime there will be a lot of painful adjustment."
Split opinions
Europe is not the only economic wild card. Tom Stevenson at Fidelity International points out that China is the other unknown.
"In some senses, the emerging markets offer great opportunities. Chinese markets are off 20%, India some 30% over the last year," he says.
"However for these to be opportunities you have to assume that China in particular will have a soft landing, and that the tightening process by the government there is coming to an end."
China's Achilles heel is its property market, where prices in many cities have taken violent lurches downwards. Prices for new houses in Beijing, for instance, are down more than 20% this year.
However, opinions are divided as to how this will affect the economy, depending on how much you feel property is a highly-controlled tool of government monetary and social policy, or simply a market, subject, like any other to the tyranny of supply and demand. It is probably somewhere in the middle - hence the complete unpredictability of the situation.
Tom Stevenson is more bullish on the US. "Confidence is on the up. The retailers have had a good Christmas, unemployment has even stopped rising and there are signs the housing market may have reached the bottom," he says.
"In very simple terms if you can find a good quality company yielding 5% for the next five years then you are going to do very nicely out of it."
Jamie Stewart agrees: "If you are looking for an investment for two to five years then I would be very bullish. The problem is for short-term investors. Anything under a year is really difficult. And that explains a lot of why the market is so volatile at the moment."
The message seems to be 2012 could be a catastrophe or a huge opportunity for investors. High stakes indeed.