Blacks Leisure sale talks continue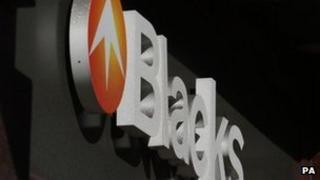 Struggling retailer Blacks Leisure has said that talks over the sale of the business are continuing.
Earlier this month, Blacks had appealed for an investor to rescue it by buying the firm or one of its brands.
In an update, Blacks said a number of parties had made offers for the whole of or parts of the group, although it did not expect an offer for its shares.
It added that it continued to hold talks with some of the parties, and it hoped to finalise a sale in January.
Blacks owns 98 Blacks outlets, 208 Millets stores and the Peter Storm and Eurohike brands, and employs about 3,500 people.
Buyer interest
"Blacks Leisure continues to hold discussions with a number of selected parties with a view to concluding the sale process in January 2012," the company said.
However, it added: "Based on the level of indicative offers received, it is most unlikely that any value will be attributable to the ordinary shares."
There has been speculation that Blacks' assets may be sold through a so-called "pre-pack" administration deal, whereby a buyer snaps up assets immediately after the struggling firm has gone into administration.
Last week, Sports Direct - which owns a 22.5% stake in Blacks - said it had withdrawn its interest in making a bid for the company.
In recent days, reports have said that Scottish clothing group Edinburgh Woollen Mill is one of the front runners to buy parts of the Blacks business.
Blacks reported a £16m loss for the first half of its financial year and last month warned that its annual results would be worse than expected.
The company's shares have fallen by 95% since the start of the year.