World Bank gives $5.5bn aid to Pakistan to boost growth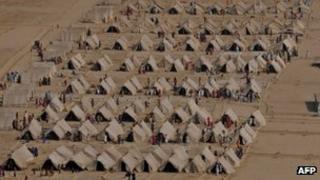 The World Bank has said it will give $5.5bn (£3.5bn) in development aid to Pakistan to support poverty reduction and economic growth.
The funding will provide support to critical social services such as education and health.
It will also support infrastructure programmes aimed at creating jobs and restoring long-term growth.
Floods earlier this year left some 200,000 people homeless and slowed Pakistan's economy.
"We will continue our strong support to Pakistan, while keeping a keen eye on implementation to ensure that these efforts translate into real results on the ground," Rachid Benmessaoud, the World Bank's Pakistan director was quoted as saying by the AFP news agency.
Slowing growth
Flooding in Pakistan affected almost one-fifth of the country's agricultural area, causing extensive damage to crops and food production.
At the same time, industrial production in the country was also hurt due to supply chain disruption and power outages.
The State Bank of Pakistan has warned the economy is likely to post slower-than-expected growth of between 3%-4% in the current financial year.
Its views were echoed by the World Bank, which said that the country's recovery from the floods remains slow.
The World Bank's $5.5bn funding will be comprised of $4bn in development assistance and $1.5bn from the bank's International Finance Corporation (IFC), which helps private sector firms.
"We are committed to helping Pakistan realize its potential especially in key sectors such as infrastructure, renewable energy and agribusiness," said IFC Middle East director Mouayed Mahlouf.