Hungary borrowing costs rise on junk downgrade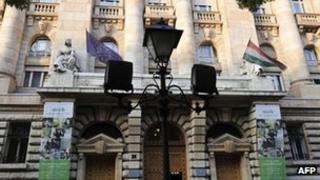 The implied cost of borrowing for Hungary has risen after ratings agency Standard & Poor's (S&P) downgraded the country's debt to junk status.
The interest rate, or yield, on 10-year government bonds traded on the secondary market rose from 9% to 9.3% after S&P cut Hungary's rating to BB+ from BBB- on Wednesday night.
S&P said it had doubts about the independence of Hungary's central bank.
The Hungarian government immediately criticised the downgrade.
"[The decision] is clearly not based on the assessment of the facts of the Hungarian economy and financial system - it is pressure from market players interested in strengthening the dollar zone and weakening the eurozone," the Economy Ministry said in a statement.
Weakening outlook
S&P cited changes to the constitution that had undermined the independence of the central bank and other institutions as part of the reason for the downgrade.
"In our view, the predictability of Hungary's policy framework continues to weaken, harming Hungary's medium-term growth prospects," the agency said.
Last week, the European Commission and the IMF cut short informal aid talks with Hungary due to worries over the independence of its central bank.
S&P also cited heightened risks to the country's ability to repay its debts due to the weakening domestic and global economic outlook.
Last month, fellow ratings agency Moody's also downgraded Hungary to junk status, blaming the economy's high levels of debt and weak prospects for growth.
Hungary was given a 20bn euro standby loan by the IMF in 2008 to prevent it having to default on its debts.
But the newly-elected Prime Minister Viktor Orban decided not to renew the standby facility last year.