Yahoo shares rise on reports it will sell Alibaba stake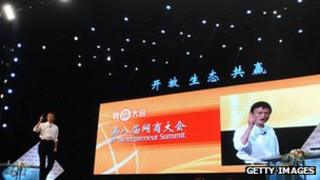 Yahoo shares rose on reports that the internet company is looking to reduce its stake in China's Alibaba Group and Yahoo Japan.
Yahoo rose 6% on the Nasdaq stock exchange after the New York Times reported the firm was aiming to cut its Alibaba stake to 15% from 43%.
According to some estimates, the deal will value Yahoo's Asian assets at $17bn (£11bn).
Yahoo bought its stake in Alibaba for $1bn in 2005.
'Right direction'
Despite being one of the biggest brand names, Yahoo has seen its market share tumble amid growing competition.
The likes of Google and Facebook have not only surpassed it in the amount of users but have also seen advertisers flock to them, hurting Yahoo's revenues.
Dwindling fortunes saw the company fire former chief executive Carol Bartz earlier this year and launch a strategic review of its operations.
There has been growing speculation about a takeover bid for Yahoo, with companies including Microsoft, Alibaba and private equity group Silver Lake being linked to a possible deals.
Analysts said offloading its Asian assets was the best option for Yahoo.
"It's definitely a step in the right direction. It shows that the board is thinking about shareholders as opposed to their own interests," said Adam Seessel, director of research at Martin Capital Management.
Soured relations
The main focus of Alibaba's sale of its Asia assets will be on what developments take place with regards to its stake in Alibaba Group.
Alibaba is China's biggest e-commerce group and Yahoo's stake in it is considered by many as one of its most prized assets.
However, relations between the two firms have deteriorated reaching a tipping point earlier this year after Alibaba spun off its online payment business, Alipay.
Yahoo accused the Chinese company of hiding the move from it, saying the change had been made in August 2010, but it only found out about it in March this year.
Alibaba's founder Jack Ma has also been trying to buy back the company's stake from Yahoo for some time.
Alibaba's spokesperson John Spelich declined to comment on the issue when contacted by the BBC.