Malaysia to liberalise foreign ownership of banks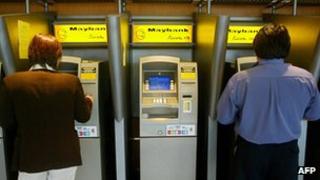 Malaysia has announced plans to allow more foreign investment in the banking sector in a bid to boost economic growth.
It said the government will be more flexible in letting foreigners hold stakes in banks and will also issue banking licences to foreign firms.
Malaysia's central bank said the cap on foreign ownership will depend on the financial profile of the investor.
Foreign ownership of commercial banks in Malaysia is capped at 30% currently.
"The financial sector blueprint for the next 10 years reinforces the government's initiatives to drive Malaysia to become a fully developed nation," Prime Minister Najib Razak said.
"The financial system will have a key role in spurring new areas of growth, and facilitating our economic transformation," he added.
'A positive twist'
Malaysia has set a target of becoming a fully developed economy by 2020 and the financial sector is expected to play a key role in helping it to achieve that.
The sector is expected to grow at an annual rate of between 8% to 11% in the current decade.
In an attempt to expand the sector, authorities have already granted licences to some foreign banks, including BNP Paribas and National Bank of Abu Dhabi, to operate in the country.
Analysts said that changes to the ownership rules will help boost growth even further.
"These moves, when they materialise, would definitely attract foreign investments into Malaysia," said Gundy Cahyadi, of OCBC Bank.
"This could be taken as another step towards more liberalisation, and definitely a positive twist to the country's longer term growth."
Islamic finance
One of the fastest growing areas in Malaysia's banking sector is Islamic finance. Overseas investors are currently allowed to hold up to a 70% stake in Islamic and investment banks.
The central bank said it is planning to introduce new products and also offer new Islamic banking licences to help sustain the growth momentum.
However, analysts said, despite the growing demand for Islamic finance, foreign banks may find it difficult to penetrate the market.
"Foreign institutions will want to get into the sector, but they are likely to face tough competition from the already-established domestic players, even with a level playing field," Peter Hoflich, of The Asian Banker consultancy and research group, told the BBC.
"The Malaysian banks are clear market leaders in the sector and I am not sure if the foreign banks can bring anything different to table for the clients," he added.