Banks and small businesses aim for harmony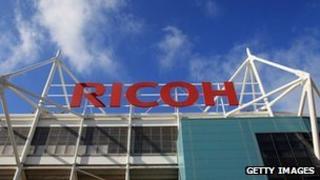 It's a bit like entering the lion's den.
Small businesswoman, Caroline Noel, is sitting across the table from an array of bankers from the main high street banks.
She's come to tell them about the problems small businesses face in securing access to finance.
It's an unusual gathering.
Once a month in a boardroom at Coventry Football Stadium, senior representatives from the region's banks get together to figure out collectively how to improve the flow of lending to local businesses.
They aren't the most comfortable of bedfellows. But rivalry has been put aside.
They're joined by a clutch of accountants, lawyers and other professionals all specialising in business finance.
Logjam
It's the brainchild of the Coventry and Warwickshire Local Enterprise Partnership, which decided that a local initiative might just be the key to breaking the perceived logjam in lending.
It's clear from the discussions that small businesses with turnover of less than half a million pounds face the biggest problems, and it's not always about the money.
"We don't seem to get much communication from the banks," said Caroline Noel.
She runs a business support company and told the gathering how she would like to double the number of staff to 28 by next year: "We did have a very good business plan. We had cashflow in place and went for access to finance and didn't get it. You need to start marketing to small businesses like us."
The chair of the group, Brian Colquhoun, Regional Director at Yorkshire Bank, acknowledges they need to do better. They agree to come up with ways to meet more SMEs.
Money queue
Persuading companies that the banks are open for business is a key task. But they say businesses also need to be realistic.
"There will be a norm, but it will be the new norm," says Mr Colquhoun.
"There was a time, to be honest, where businesses couldn't go far wrong and banks were queuing up to give them money, as it were.
"What was good four or five years ago is not the case now. What was good 10, 12 years ago can still be good now. Good businesses will always find a way to develop and grow," he said.
His next visitor is a good illustration.
Carlos Gonzales-Lee has been borrowing this year for growth.
He sells and maintains refurbished laser cutting machines from an industrial estate in the north of Rugby.
For him, the recession brought opportunities: "I borrowed to buy new premises, taking advantage of cheaper property prices, and this has been the springboard to record growth in the business," said Carlos.
And the growth has been so phenomenal, he's seeking another round of financing to buy new machinery to double sales again.
"My experience has been very good. I know there's a lot of negativity, but if you've got the right idea the banks will back you up. It's been very simple," he said.
Finance is not so straightforward for a lot of other businesses.
Way ahead
The unusual thing about this Coventry collective is the banks are willing to share case studies in order to find the most appropriate form of financing for individual companies. And with the other experts in the room, they can discuss a wide range of options.
"It's not all about bank lending - there's mezzanine financing and equity financing, for instance. It's more a case of, can we work with local businesses to get a suitable structure, offer the right advice, and in the right circumstances give bank lending that allows their business to grow," said Mr Colquhoun.
In Coventry, this is how they hope to bridge the gap that exists between businesses and the banks.
So how will they define success? "When we have no one thinking there's a problem and people thinking there is a way ahead," Mr Colquhoun said.