House prices: Will they fall or rise in 2012?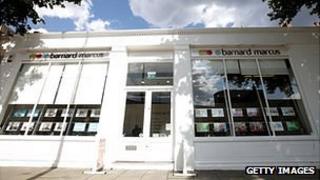 The UK property market is likely to be even more depressed in 2012 than it was in 2011.
Commentators and analysts expect sales to stay low - perhaps even lower than they have been in the past year.
And prices are expected by most observers to fall a little - though some predict larger drops of up to 10% in the coming 12 months.
But a new threat has emerged that could really upset the apple cart - the possibility that a partial or even complete collapse of the euro leads to a new all-singing, all-dancing banking crisis.
"If we were to get a fully-blown euro crisis and that unfolds rather nastily, then clearly that's going to have implications in terms of credit availability and the position of the banks," warns Martin Ellis, housing economist at the Halifax, one of the UK's biggest mortgage lenders.
Gummed up
Ed Stansfield, at consultancy Capital Economics, echoes that view.
"No-one knows how Europe is going to play out," he says.
"The longer it drags on, acting as an obstacle to the smooth operation of the financial markets, acting as a drag on business and consumer confidence, you'd have to say the balance of probability is that things are likely to get worse before they get better."
Even ignoring the possibility of a new banking crisis that leads to a mortgage drought, there is no doubt that the market for buying and selling homes has already become thoroughly gummed up.
It has been stuck due to a combination of prolonged mortgage rationing, home owners reluctant to drop their prices, and gloomy economic news putting off potential buyers.
As a result, sales in the first 11 months of 2011 stood at 787,000, compared with 810,000 in the same period of 2010.
That means 2011's eventual total might even be lower than 2009's figure of 859,000 sales for the whole year - the lowest since modern transaction records began in 1978.
Even the reluctance of lenders to repossess many of the borrowers who are now in arrears has played its part.
With tens of thousands fewer homes being repossessed than lenders had predicted just a couple of years ago, the market has been deprived of the cheap homes that would otherwise have been put up for sale.
Feels like recession
Most property commentators are simply predicting "more of the same" for the coming year.
"Many of the features that characterised the market in 2011 are likely to be replayed in 2012," says Robert Gardner, chief economist at the Nationwide Building Society.
But one aspect will clearly be different, which may depress sales and prices.
Unemployment has started rising steeply again and, along with a combination of inflation and low or non-existent wage rises, this has meant that household incomes have been falling.
The country now feels as if it is back in recession, even if the official figures suggest things are not quite that bad yet.
"Clearly unemployment is going to grow, we will find as a nation that we are tightening our belts, there won't be additional money for people to afford the kind of terms lenders now require [so] people will be more uncertain about their financial future," says property market commentator Henry Pryor.
The penny drops
Another thing that appears to have changed in the past few months is the unwillingness of sellers to drop their asking prices.
For the past few years there has been a phenomenal gap between asking prices and actual selling prices.
The gap, depending on which measure of selling prices you use, has suggested that homes put up for sale by their deluded owners or estate agents have been as much as 40% over-priced.
But the property website Rightmove says new sellers have been dropping their asking prices significantly in the past couple of months, by 3.1% in November and by another 2.7% this past December.
"Sellers and their advisors are finally getting it," says Henry Pryor. "We are going to see a significant adjustment to prices - a fall of 10%," he predicts.
However Simon Rubinsohn, chief economist at the Royal Institution of Chartered Surveyors (Rics), warns that a sharp drop like that would not necessarily be a great boon to the many potential first-time buyers.
So far they have been kept out of the market by a combination of high prices and large deposit requirements.
He argues that suddenly falling prices would undermine the security of mortgage loans the banks had already made, and make them shy of lending more.
"If you think it's tough now, if prices were to start falling sharply, I suspect they [the banks] would be even tighter and harsher, and first-time buyers would struggle to gain any sort of opportunity," Rubinsohn warns.
London peculiar
So how have prices changed across the UK in the course of 2011 so far?
The Land Registry for England and Wales says they were down 3.2% in the year to October.
The government's own index, compiled by the Department for Communities and Local Government (DCLG), says they fell by just 0.4% over the same period.
The Halifax reckons prices dropped 1% in the year to November, while its counterpart the Nationwide says in fact they rose 1.6%.
One great curiosity of the UK property market is that prices in central London, and other very prosperous parts of the South East, have seen prices rise in the past couple of years and are now back to their peak levels.
One reason is that many of the new jobs created in the past year or two have been in this part of the UK.
But wealthy foreigners, looking for a safe home for their cash by buying a flat or house in central London, have also played a part.
"If you look at reports from estate agents like Knight Frank and Cluttons one can see that what has been quite significant over the last year or two is buying from people in Greece and Italy who are desperate to get their cash out of their country," says Ray Boulger of mortgage brokers John Charcol.
Less to lend
Mortgage lenders are officially forecasting that they will lend slightly less money to home buyers in 2012 than they did in 2011.
That does not bode well for anyone who wants to buy, and who thinks they can quite adequately afford to repay the loan they want.
But Bernard Clarke, spokesman for the Council of Mortgage Lenders (CML) says there are some encouraging signs for market activity.
One of these should be interest rates staying low, as the Bank of England continues its efforts to prop up the banking system and the wider economy.
"Borrowing costs should not be rising as the result of any rises in the Bank's base rate [and] we have seen the first sign of inflation turning down, easing pressure on household budgets - they may the ease the pressures," Clarke says.
Up or down?
Everyone is agreed that interest rates will stay low and unchanged this coming year.
But whatever the temporary market factors, one fundamental stands out - not enough homes are being built.
This is revealed clearly by the fact that in 2011 just 107,000 new homes were built.
Meanwhile the government has forecast that every year from 2013 to 2023 an extra 240,000 new households will be formed, mainly due to the growing population.
Robert Gardner at the Nationwide says this means only one thing: "If you look at the rate of household formation in the UK, it has been running far above the rate of residential construction, so it points to a growing household shortage."
And that must mean, eventually, upward pressure on prices.
However Jonathan Davis, an economist and wealth manager, says house prices are not in fact determined by the balance of supply and demand, but by how much money lenders are willing to lend.
He reckons the absolutely dire state of the economy, eventual increases in interest rates further down the line, and no return to the days of easy lending, mean that house prices will fall for several years to come.
"House prices have to keep falling until they get back to long-term norms of about three or four times earnings," he says.
"They are still about seven or eight times earnings - they still have a long way to go."