Six jailed over tax evasion in carbon permit trade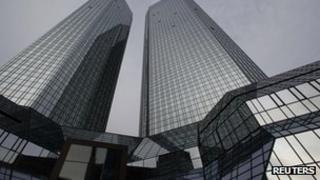 A German court has jailed six men over a 300m euro ($391m; £249m) fraud selling carbon emission permits through Deutsche Bank.
Three Britons, two Germans and a Frenchman were given jail terms of between three years and seven years 10 months by a Frankfurt court.
They bought the permits overseas and paid no tax, then resold the permits to each other to claim back tax illegally.
Deutsche Bank said there was no evidence it had done anything wrong.
Under EU rules, limits are set on the amount of carbon dioxide companies emit, and those polluting less can sell 'credits' to those that need more.
The fraud, which took place between September 2009 and April 2010, was carried out via Deutsche Bank, where seven staff members are still under investigation by authorities.
Judge Martin Bach said: "An important instrument of environmental policy has been hijacked to become an instrument of personal enrichment".