Italian economy shrinks by 0.2% fuelling recession fear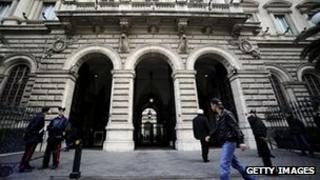 Italy's economy shrank by 0.2% in the three months to the end of September, fuelling fears of a recession in the eurozone giant.
The figures, released by the country's official statistical agency, Istat, show the first contraction in the Italian economy since 2009.
Italy's government has predicted the economy will contract by 0.4% in 2012.
Earlier this month, the government announced an austerity plan to "save Italy".
The package of emergency austerity measures included raising taxes on the assets of the wealthy, increasing pension ages, and a major drive to tackle tax evasion. Italian Prime Minister Mario Monti also said he would give up his own salary as part of the effort.
However, analysts expect Italy's economy will struggle for some time yet.
"We expect the contraction in Italian GDP that began in Q3 will continue and deepen over the next two years in Italy, as the new government implements a series of austerity measures, banks across Europe deleverage and consumer and business confidence continue to flag," said Megan Greene, Head of European Economics at Roubini Global Economics.
The predicted 0.4% contraction in the economy next year is also seen as optimistic by some, with employers' lobby group Confindustria expecting GDP to fall by 1.6% in 2012.