Thorntons issues profit warning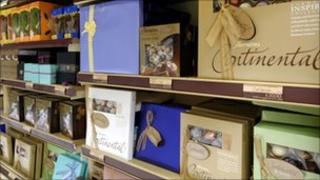 Chocolate maker Thorntons has issued a profit warning, blaming weak consumer confidence and high levels of promotional activity.
It is predicting that it will break even in the 53 weeks to 30 June 2012.
But that figure excludes exceptional items and what it calls "onerous leasing charges".
Having to make lease payments on closed stores was one of the factors blamed by Thorntons for its loss in the last financial year.
In September, the company reported a loss of £253,000 for the year to 25 June 2011, compared with a profit of £4.4m the previous year. The loss came despite revenues being up slightly at £218.3m.
In its latest statement, Thorntons said that profits for the current financial year would "fall short of current expectations".
The company is in the middle of a strategic review of the business, which will involve closing 180 shops over three years.
Thorntons will issue another trading update on 12 January 2012.
It is not the only retailer having a tough time. On Tuesday, the CBI said that while early discounting had helped retailers to boost sales in December, business was still weak for the time of year and sales were expected to fall in January.
On Monday, HMV reported a six month loss of £45.7m and warned that there was "significant doubt" about its ability to continue as a going concern in future.
Blacks Leisure put itself up for sale this month, having previously warned that tough High Street conditions meant its Christmas trading would be weaker than expected.
And the electrical retailer Kesa announced a 9.2m euro (£7.9m) six-month loss this month, having agreed in November to sell its Comet chain for £2.