Hungary raises interest rates to 7%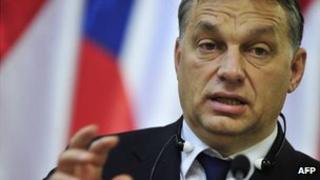 Hungary's central bank has increased interest rates to 7% from 6.5%, the second month in a row it has raised rates.
The increase led to criticism from the government, which said it would "hinder" growth.
Hungary is trying to negotiate an aid package from the International Monetary Fund (IMF) and the European Union.
Last week, informal talks were cut short over worries about the independence of the central bank.
The government party is proposing a law that the central bank governor, Andras Simor, has said amounts to a takeover of the central bank.
The European Central Bank has also criticised it for threatening the bank's independence, and the European Commission has asked Hungary not to adopt the law.
Hungary has been seeking a standby credit line of 15-20bn euros ($19.5bn, £12.6bn) from the IMF and EU in case it runs into trouble issuing new debt.
The country has pursued an unorthodox economic policy since Prime Minister Viktor Orban's government was elected in April 2010.
In an attempt to tackle the deficit - and avoid further IMF loans - the government has transferred private pension assets to the state and put new taxes on its banks.
In November its credit rating was downgraded to 'junk' status by Moody's.
The forint rose 1% against the euro after the latest increase in rates. The currency has fallen 12% against the euro since the middle of the year.