German business confidence rises again, Ifo says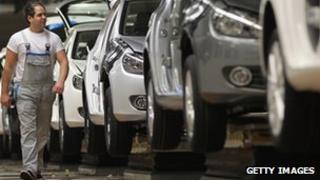 German business sentiment has risen for the second month in row, according to the Ifo economic think tank.
The closely-watched Ifo Business Climate Index rose to 107.2 in December, up from 106.6 in the previous month.
The climb was the biggest rise in the index since February.
The results coincide with the forward-looking GfK index which predicted that German consumer confidence will hold steady in January.
'Weak growth'
"Business expectations improved for the second time in succession. The German economy seems to be successfully countering the downturn in Western Europe," said Ifo president Hans-Werner Sinn in a statement.
The results from the Munich-based think tank dismissed any suggestion of a meltdown comparable to 2008 and stated that the 2,000 German firms that were surveyed viewed their six-month business outlook more favourably than in November.
However, analysts reacted with caution to the news.
"Take note that the current three-month average for the combined Ifo index shows a slightly lower level than in the July-September quarter, which indicates somewhat weaker GDP growth in the fourth quarter," said Viola Stork, economist at Helaba.
Jonathan Loynes, an economist at Capital Economics, said: "Overall, there is some encouragement here that the German economy is not currently plunging into recession, but the picture is one of very weak growth at best."