Viewpoint: Will Asia see further price growth in 2012?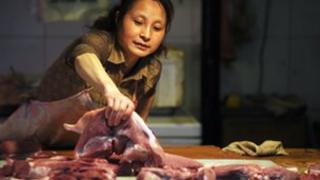 As 2011 draws to a close, Asia ends the year a significantly pricier place than it started.
Asians are no strangers to inflation as prices of homes, sugar and pork - to name just a few items - surged across the region, prompting demands for higher wages and government action to calm price rises.
Inflation was a clear and seemingly unstoppable headwind during the first half of the year, with the direction of prices initially seen as largely related to demand factors like urbanisation and rising incomes.
In places like China and India, workers are getting richer and moving into cities at unprecedented rates.
This has raised the demand for food, housing, clothing, electronics and other goods that new entrants to the middle class aspire to everywhere in the world.
Global factors
In the US, the Federal Reserve's second round of Quantitative Easing - the buying of short-term bank debt introduced late in 2010 - played its role in keeping short-term interest rates abnormally low.
That saw global investors beat a path to higher-return markets in Asia. The resulting "hot money" flows forced governments in attractive Asian markets to take dramatic cooling measures.
Smaller markets such as Hong Kong and Singapore, for example, saw dramatic rises in house prices, making some entry-level properties unaffordable for working class residents.
Both governments eventually implemented policies that raised down payments, increased transaction taxes and required minimum time to hold a property before it could be resold.
Chinese authorities eventually implemented similar and in some cases more austere measures to cool real estate markets on the mainland.
Different approach
As inflation raged, consumer prices in China rose 6.5% year on year while those in India surged over 10%, driven by a surge in food prices.
One of the most pressing items on the grocery list for Chinese workers was pork. With food prices already up 14% back in July, pork played a central role in raising the alarm about inflation on the Chinese mainland.
At the time, pork prices were up 57% year-on-year, largely owing to supply-side factors and related to a 2007 pig disease that forced the government to cull much of the pig population.
India, as a large, open market, used currency appreciation and interest rates to fight inflation. It has raised interest rates 13 times over the past two years.
However, as a closed market with currency controls, China has limited ability to pull the lever of currency appreciation to fight inflation. Instead, it took a more supply-side approach to inflation control, preferring to manage the quantity of credit available for lending.
Among numerous other inflation-fighting tactics used over the past year, China raised its reserve requirement - the amount of money from deposits that commercial banks must keep on hand - six times, topping out at a record 21.5%.
The policy, in effect, controls the amount of money banks can lend to borrowers, so the lower volume of credit is intended to ease demand and, therefore, prices.
Denting growth
As expected, inflation eased gradually in the second half of 2011 on domestic policy changes and from external policies such as the US Federal Reserve's "Operation Twist". This was intended to reduce long-term interest rates, allowing short-term rates to rise and draining part of the "hot money" circulating in Asia.
Respite from supply-side shocks early in the year, such as floods in China and Queensland, Russian grain fires, and Japan's earthquake, further alleviated the stress on Asia's bustling consumer markets.
While these policies - clamping down on loans, currency appreciation and interest rate rises - have been effective inflation fighting tactics, they have proven to be a drag on growth for the corporate sector.
China's small and medium enterprises, for example, paid a dear price as state-owned entities and local governments received the lion's share of the limited supply of loans from commercial banks.
That strangled growth opportunities and exacerbated the normal cash flow issues for the country's coastal manufacturers already operating on razor-thin margins.
Manufacturing margins were further stressed as the rise in consumer prices pushed wages up by an average of 21% among low-wage coastal workers.
Finding balance
But as we enter 2012, Asian governments are more worried about where to find growth than how to stem rising prices.
Having introduced dramatic measures to stem inflation through the year, most governments have plenty of options to loosen policies and stimulate demand as developed markets slow in the first half of 2012.
The problem is finding a balance. Will Asian policymakers overstimulate to push another boom-bust cycle or will they deftly manage the transition from a tight environment to a loose one?
With world growth softening and commodity prices off their peaks, inflation in every region of the world will decline through 2012.
The drop in inflation is likely to be the most pronounced in the developed world because of vast amounts of excess capacity in both labour and product markets.
In Asia, the recent declines in food prices are having the biggest impact. Without a spike in oil or food prices - triggered by geo-political events or bad weather - the inflation picture in 2012 will be quite benign.
Good news, at least on one front, for Asia's exhausted consumers and policy makers.
The opinions expressed are those of the author and are not held by the BBC unless specifically stated. The material is for general information only and does not constitute investment, tax, legal or other form of advice. You should not rely on this information to make (or refrain from making) any decisions. Links to external sites are for information only and do not constitute endorsement. Always obtain independent, professional advice for your own particular situation.