HMV clinging on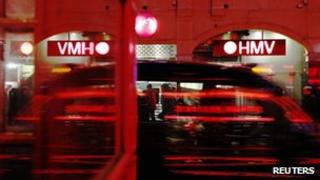 The good news about HMV is that it is going backwards slower than it was.
In the second quarter of the year, underlying or like-for-like sales from continuing operations fell 8.6%, which compares with minus 13% in the first three months of the year.
Since then the fall appears to have accelerated again to a drop of 13.2%, in the seven weeks to December 17. But that deterioration is misleading, in that in 2010 the sales figure included the all-important last Saturday of trading before Christmas.
Other brighter points are that where HMV has refitted its stores so that they contain many more high-value technology items, such as tablets, and electronic stuff, the sales decline isn't as bad - sales in those stores are about four or five percentage points better (or not as ghastly) as in older-format stores.
But even in the refitted stores, sales aren't yet stabilised.
So with the economic outlook for the UK pretty uncertain, and with HMV both highly indebted and suffering a shrinkage of turnover, it's no great surprise that the group's auditors have insisted that the company make the following statement:
"The interim statements have been prepared on a going concern basis and this reflects the Board's confidence in its reasonable expectation that the Group will have adequate resources to continue in operation for the foreseeable future. However, the economic environment and trading circumstances create material uncertainties which may cast significant doubt on the Group's ability to continue as a going concern in the future. The Directors continue to maintain regular and constructive discussions with the Group's banks."
What that means is that HMV isn't bust, but there's a greater probability than for many companies that it might end up in the corporate knackers yard (did HMV's owners really need an auditor to tell them that - given it has £164m of debt, and its traditional business model is challenged).
Even so, HMV's chief executive, Simon Fox, remains positive, if not exactly chipper.
What is particularly important to him is that the music industry has made it clear to him that it values HMV - as an alternative to price-cutting online retailers and supermarkets that offer very limited choice.
He told me that film and television businesses have also been supportive.
The importance of the support of suppliers cannot be overstated, in that the headwinds faced by HMV are huge.
On the one hand, it is being disintermediated by the internet (the internet is eating its lunch).
On the other, consumer spending for the coming several years is likely to be a fraction of what it was in the decade and a half before the 2008 crash.
There is of course always serendipity in retailing.
Headphones have become a fashion item (or so I am reliably told - and I only hope I've bought the right brand for younger son this Christmas) and HMV is now the market leader in this increasingly pricey ear-ware.
Also the "Inbetweeners" movie has become the biggest selling DVD launch for HMV ever.
So Santa hasn't been sadistic to HMV. But HMV will need more than seasonal windfalls to secure a long term future.
If you want the measure of its plight: HMV is looking to sell its concert and live venues, which is the one part of its business that is still growing.