S Korea markets slide on reports of Kim Jong-il's death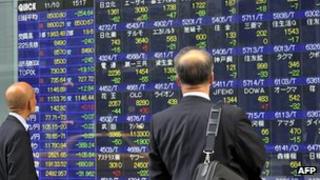 South Korea's currency and main stock index have dropped after North Korea's state media said the country's leader Kim Jong-il had died.
The benchmark Kospi stock index shed as much as 4.9%, and eventually closed down 3.4%. The currency, the won, fell 1.6% against the dollar.
The Bank of Korea will hold an emergency meeting to discuss the death.
Analysts said market volatility will remain amid questions about North Korea's succession plans.
"The shock on the market will be inevitable in the short term," said Bae Sung-Young from Hyundai Securities. "Judging from the past cases, I forecast the impact to last for two to three days only."
However the analyst said that market volatility may last longer this time as the death came when the succession process still looks incomplete.
Power struggle
In September 2010, Mr Kim introduced his third son Kim Jong-un as his successor.
Analysts said that there may now be a power struggle, which could lead investors to avoid risky markets.
"We see more people trying to be a bit more cautious," said Roger Tan of SIAS Research in Singapore.
"Now there is a question mark over who's going to take the helm, and the markets are worried that there may be some instability, a fight for power over his position."
The South Korean won fell as news of Mr Kim's death spread, while the price of the country's bonds also dropped, pushing up government borrowing costs.
"The won has been the second-worst performing currency after the Indian rupee since the summer," said Richard Driver at Caxton FX.
"Global risk appetite is likely to remain hemmed in for a long time to come and this renewed regional uncertainly only adds to what was already a negative 2012 outlook for the won."
Other Asian markets were also down on the news. Japan's main Nikkei 225 stock index lost 1.3%, while Hong Kong's Hang Seng slipped 1.2%.
"This is definitely a negative factor for markets with no detailed information on his death," said June Park at Meritz Securities in Seoul.
"It will drive the stock markets lower as geopolitical risks are rising and foreign investors could withdraw money out of South Korea."