Qantas Airways reaches deal with engineers to end dispute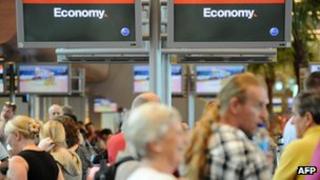 Qantas Airways says it has reached an agreement with its main engineers union, in one of three ongoing disputes between the Australian airline and its workers.
Qantas said it had agreed to a 3% annual increase in salaries for three years.
The deal will be presented to the industrial regulator on Monday.
In October Qantas grounded its entire fleet to try and force an end to ongoing strikes.
The company has been faced with labour disputes with unions ever since it announced plans to set up new carriers in Asia.
Qantas and three labour unions, representing engineers, pilots and baggage handlers, entered into forced arbitration last month after failing to agree on pay and job security demands.
Monday's accord with the union representing 1,600 engineer will now go to Fair Work Australia, the industrial regulator. The other two disputes are still unresolved.
Qantas said in August it would establish two other carriers in Asia next year, including a full service airline based in Singapore or Malaysia.