China's house prices fall amid curbs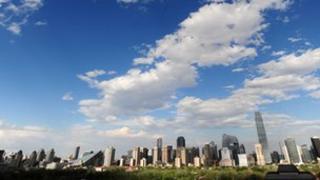 House prices in most Chinese cities have fallen as government policies aimed at cooling the property market start to take effect.
New home prices in 49 out of 70 Chinese cities dropped in November from the previous month, the National Bureau of Statistics said on Sunday.
In October 33 cities saw price falls.
Analysts say it is also further evidence that the Chinese economy is slowing and could encourage Beijing to focus policy more on growth.
Major cities such as Beijing, Shanghai, Shenzhen and Guangzhou saw prices fall marginally lower compared with October, the statement said
Chinese data does not give exact percentages, but according to calculations by Reuters average new home prices rose 2.2% in November, compared to a year earlier. That was the weakest rise in 2011 to date.
China's high property prices are a result of a stimulus package in late 2008 which was introduced to counter the effects of the global economic crisis.
It led to high housing inflation in 2009 and 2010.
Last year authorities starting implementing a slew of measures aimed at calming property markets, including higher deposits, limits on the number of houses people can own and in some cities, a property tax.
Last week China's leaders vowed to continue to curb house prices.
"China will stick to property tightening policies, push home prices back to reasonable levels and speed up construction of ordinary commercial homes to increase effective supply," said a statement made after the Annual Central Economic Work Conference in Beijing, which set out China's economic aims for 2012.