Financial Services Bill must be clearer, say MPs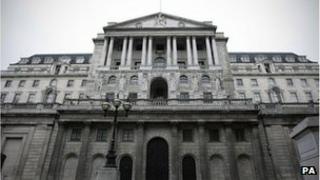 An influential parliamentary committee has said the government must amend the draft Financial Services Bill to prevent another financial crisis.
The bill will create three new bodies, within the Bank of England, to regulate financial services.
But the Joint Committee's report on the draft bill says the objectives of the new regulators need to be clarified.
The Bank of England should be made more accountable, with the chancellor taking over in a crisis, it said.
The bill will go to parliament in 2012.
"It is vital that if the taxpayer might be liable for costs to save a financial institution that the chancellor is given early warning of any such risk and then automatically assumes responsibility for handling the situation," said committee chairman Peter Lilley.
The committee said the Bank of England needed a new supervisory board to replace its current court of directors.
It also called for the legislation to reflect demands for a change of culture in financial regulation.
Regulators should not just focus on implementing rules but instead look at long-term risks and carry out "judgement led" regulation, the committee said.
Reform
The government bill will create three new bodies - all operating from within the Bank of England, which will be in charge of regulating the financial sector - taking over some powers from the Financial Services Authority.
The Financial Policy Committee (FPC) will have overall responsibility for financial regulation and monitoring the risks of the financial sector to the economy.
The committee will oversee, and have the power to instruct, two new financial watchdogs.
The Prudential Regulation Authority (PRA) will take over responsibility for supervising the safety and soundness of individual financial firms.
The Joint Committee suggested the PRA's remit should be widened to cover firms such as the UK operations of MF Global, which would be outside its current remit.
The Financial Conduct Authority (FCA) will be tasked with protecting consumers from sharp practices, and making sure that workers in the financial services sector comply with rules.
The Joint Committee also suggested the FCA's remit be widened, to include the consumer credit industry.