Fitch revises outlook on France to 'negative'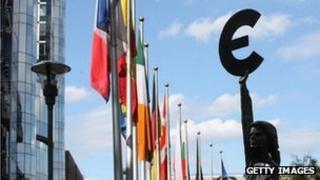 Ratings agency Fitch has affirmed France's top-notch AAA credit rating but has revised its outlook on the country to "negative" from "stable".
A negative outlook usually means a downgrade is possible in 12-18 months.
Fitch said the change in outlook was prompted by the heightened risk of government liabilities arising from the eurozone's debt crisis.
The agency also said it was considering downgrading ratings for Belgium, Spain, Slovenia, Italy, Ireland and Cyprus.
"Following the EU Summit on 9-10 December, Fitch has concluded that a 'comprehensive solution' to the eurozone crisis is technically and politically beyond reach," the agency said in a statement.
The ratings of these six countries, which already had a negative outlook, have now been taken a step further, and placed in "credit watch negative", which means that they could face a downgrade within three months.
'Greater risk'
The revised outlook on France comes in a week when senior French figures have criticised the economic situation in the UK, with Finance Minister Francois Baroin describing it as "very worrying".
And the French central bank chairman has suggested the UK's credit rating should be downgraded - ahead of France.
But Fitch said: "Relative to non-euro area 'AAA' peers, notably the US and the UK, the risk from contingent liabilities from an intensification of the eurozone crisis is greater in light of its commitments to the European Financial Stability Facility and the European Stability Mechanism, as well as indirectly from French banks that are less strong than previously assessed as reflected in recent negative rating actions by Fitch."
It also said that compared with other eurozone countries with a rating of AAA, it judged France to be the most exposed to a further intensification of the crisis, citing France's larger structural budget deficit and higher government debt burden.
Another agency, Standard & Poor's, warned earlier this month that France's rating could suffer over the eurozone crisis.