Public sector pensions: Fresh row over changes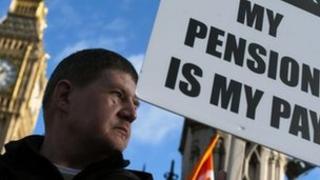 A union representing public sector workers has accused the government of trying to "bully" it into signing up to changes to pensions.
The PCS union said the government had shown a "total lack of respect" by setting a deadline of 10:00 GMT on Monday for a response to its latest offer.
However, the deadline has now been withdrawn, the BBC understands.
The government earlier confirmed that it would press on with pension changes.
The announcement came despite no agreement being reached with unions over the planned increase in contributions from many staff.
'Affordable'
The Department for Education and the Cabinet Office confirmed plans to make changes to teachers' and civil servants' pensions in April.
Following consultation, ministers have now confirmed pension contribution rises for teachers and civil servants in 2012-13 which are largely in line with their plans published in July.
"Our changes for next year are about keeping pensions affordable for future generations of teachers - while protecting new and low income staff from the biggest contribution increases over the next few years," said Nick Gibb, the Schools Minister.
Meanwhile, the Cabinet Office said additional contributions would take effect from next April, while proposals for 2013-14 and 2014-15 would be the subject of a separate consultation next year.
At the same time, the BBC understands that the Cabinet Office told the PCS it would be locked out of further negotiations if it failed to recommend the latest pension offer - a move that angered the union.
"We have always been committed to negotiations, so it is totally unacceptable for the government to now try to bully their staff into accepting cuts that will mean the loss of tens of thousands of pounds for many people," said PCS general secretary Mark Serwotka.
However, a Cabinet Office spokesman said: "It is hugely disappointing and irresponsible that details of intensive and private discussions that have been taking place in good faith have been leaked.
"We do not think it would be appropriate to comment on the details of a leaked letter, but can confirm it flows from a long meeting that [Cabinet Office minister] Francis Maude had with the civil service unions on Tuesday. It was always intended that these discussions on the reform of public service pensions should be completed by the end of the year.
"These discussions have now been going on for 10 months and the government has been totally committed to them - as have nearly all of the civil service union leaders. However, we continue to consider it a disappointment that the leader of the PCS union has failed to turn up to a single scheme discussion to represent the views of his members at this critical time in the talks."
Contributions
The Department for Education said that 116,000 teachers earning between £15,000 and £25,999 on a full-time basis would contribute 0.6 percentage points more of their salary into the pension scheme, from April.
A further 117,000 teachers earning between £26,000 and £31,999 on a full-time basis would contribute 0.9 percentage points more of their salary, and 505,400 members earning under £39,999 on a full-time basis would pay up to 1.2 percentage points more of their salary into the scheme.
The highest earners, those earning more than £112,000 on a full-time basis, would pay an additional 2.4 percentage points from April.
A similar tiered increase in pension contributions, up to a maximum rise of 2.4 percentage points would also be in place for civil servants.
Earlier this month, the government announced what it described as an improved offer on NHS pensions.