Post Office changes spark small business fears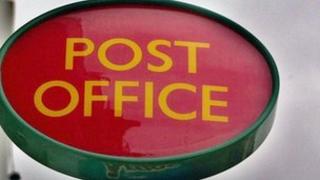 Small firms will be forced to make costly journeys for postal services owing to changes to the Post Office network, a business group has warned.
Hundreds of branches are set to be replaced with Post Office Locals, which are found in shops, petrol stations and pubs.
But the Federation of Small Businesses worries the new, limited outlets will not serve the needs of some firms.
However, the Post Office said the Locals were often more convenient.
Staying competitive
Gill Tesh makes lime mortar, used in the building trade, at her home in rural Devon and sells it to clients around the UK. She said Post Office services had been vital for the business.
In 2007, some 45 Post Office branches in Devon were closed. This included one near Mrs Tesh which was replaced by a postal van that turns up for a few hours a day.
"We are in a competitive world. If the post has gone at one o'clock and somebody phones up at two, saying they urgently need something for the next day, we cannot say 'I'm sorry the post has gone'," she said.
"It can be a problem. It makes us less competitive."
From the summer of 2012, more Post Office Locals will start to appear and businesses will be less likely to be able to deposit a cheque or pay car tax.
Small business groups are worried that people will have to travel miles to a Post Office for such services.
The official watchdog Consumer Focus, which conducted a study of Locals in Devon, has also raised concerns.
This included some Locals not holding as much cash as regular branches which receive daily deliveries.
Satisfaction
A set of 140 pilot Post Office Locals is running at the moment. Neil Ennis, of the Post Office, said this programme allowed post offices to remain open.
"It provides the opportunity for us to keep post offices in the community where communities need them," he said.
Research completed in November showed that 96% of customers using these branches were very satisfied with the new service, he said.
Customers were also benefiting from longer opening hours, he added, with some branches open late into the evening and throughout the weekend.