Russia becomes WTO member after 18 years of talks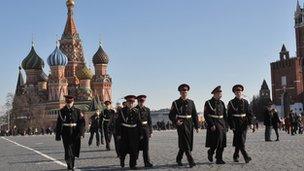 Russia has finally joined the World Trade Organization (WTO) at a ceremony in Switzerland on Friday, after 18 years negotiating its membership.
The Swiss brokered a deal between Russia and Georgia earlier this year that removed the last obstacle to Russia's accession.
Georgia had tried to block Russia's WTO entry since the two countries fought a short war in 2008.
Russia was by far the biggest economy yet to join the global trade body.
It is also the last member of the Group of 20 major economies to join, after China gained membership in 2001.
"This result of long and complex talks is good both for Russia and for our future partners," President Dmitry Medvedev said in a message to a WTO ministerial meeting in Geneva that formally approved Russia's membership.
The White House said US President Barack Obama called Mr Medvedev to congratulate him on Russia's admission.
The 153-member WTO provides a forum for international trade liberalisation agreements, which it polices - deciding when rules have been breached and when retaliatory trade sanctions can be imposed.
The removal of trade barriers is likely to stimulate greater and more diversified trade between Russia and the rest of the world.
Some estimates suggest Russian membership will help to boost its economy by tens of billions of dollars each year.
Russia is Europe's third largest export market, while Russia's own exports have been dominated by oil and gas.
"Better and improved allocation of resources within the country... from less competitive to more competitive industries" would be a major benefit to the country, according to Ivan Tchakarov, chief economist at Russian brokerage Renaissance Capital.
But he told BBC Radio 4's Today programme that he thought the biggest and least talked about benefit could be an improvement in Russia's business environment.
"By becoming a WTO member, Russia will have to import certain rules and regulations that will address the very issues that foreign investors usually complain about, like corruption, the protection of minority shareholders, the independence of the judiciary."
One reason the agreement was finally reached was because of a change of heart in the Russian leadership, according to Mr Tchakarov.
"Since the 2008-09 [global financial] crisis there has been a certain recognition at the very high level in Russia that... Russia will have to open up a little bit to foreign investment, because this is the only way for Russia to become a more competitive economy," he said.
Ahead of the signing ceremony, Russian officials were talking up the benefit of the deal, which will still need to be ratified by the Russian parliament in the next six months.
"This will create the right conditions for the further improvement of our business climate, for an influx of foreign investment and for boosting Russian exports while also retaining the possibility of giving support to our key branches of domestic economy," said Russian foreign ministry spokesman Alexander Lukashevich.
"We are achieving a completely new level of integration into the global economic system."
The deal with Georgia that opened the way for Russia to join hinged on the international monitoring of trade along the mutual borders of Abkhazia and South Ossetia.
The two provinces have broken away from Georgia and are recognised as independent states by Russia.
However, the agreement may still face a hurdle in the US, where existing legislation left over from the Cold War era blocks favourable trading relations with Russia.
But Mr Tchakarov at Renaissance Capital said he believed Congress would agree to eliminate the laws, as past disputes with Russia over agriculture and intellectual property rights have now been fully resolved.
Related Internet Links
The BBC is not responsible for the content of external sites.