Indonesia regains investment grade after 14 years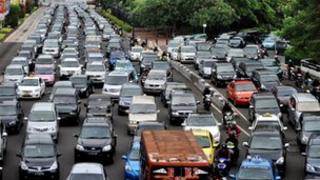 Indonesia has recovered the investment grade status for its sovereign debt at Fitch Ratings after 14 years, putting the country on the same level as India.
The agency said in a statement on Thursday that Indonesia had resilient economic growth, low government debt and prudent policy.
The country lost the investment grade rating in December 1997 during the Asian financial crisis.
The upgrade is expected to encourage more investment into the economy.
Analysts have long expected Indonesia's rating to be raised to investment grade.
It brings down borrowing costs and makes the country more attractive to investors at a time when major economies are being downgraded.
"Indonesia, in terms of sovereign risk, is better than several Western European countries," said Jerome Booth from Ashmore Investment Management in London.
"Ratings agencies are still behind the curve in the sense that developed countries are several notches too high compared to emerging markets."
Reform process
However, Fitch noted that long-term structural weaknesses remain, such as corruption and weak infrastructure.
Although the current government has emphasised reforms, improvements in infrastructure have come at a slower pace than economic growth.
On Friday, Indonesia's President Susilo Bambang Yudhoyono pledged to "guard reforms".
"Fitch mentioned that amidst good factors that caused us to be upgraded, political problems in Indonesia can disrupt ongoing reform process," Mr Yudhoyono said.
"I think this is correct, therefore, let's all of us guard our politics well to spur our economic growth."
The country's long term foreign and local currency debt was raised to BBB- from BB+.
Analysts expect other ratings agencies Moody's and Standard & Poor's to follow suit.