UK car production up for sixth month in November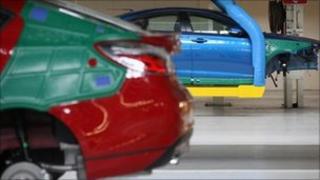 Car production in the UK rose for the sixth straight month in November, according to the Society of Motor Manufacturers and Traders (SMMT).
A total of 136,111 cars were made last month, up 8.5% from the same point last year.
UK engine production rose by 1.7% in November.
"UK vehicle and engine production continues to lead a manufacturing recovery," said SMMT chief executive Paul Everitt.
"Despite the challenges in the eurozone, the UK motor industry expects further growth in 2012."
For the first 11 months of the year, the total number of cars made was about 1.25 million - 6.1% more than was made in the same period in 2010.
Consultancy KPMG said that the production figures were being driven by strong demand, particularly from Asian buyers.
"As a result, the proportion of cars produced in Britain for the export market is close to an all-time high," said John Leech, a partner in KPMG's automotive practice.
"Premium manufacturers are performing well at present, notably JLR and Rolls-Royce both of whom are enjoying record years fuelled by Chinese demand for British exports."
In November, Toyota said it would be investing more than £100m at the firm's Derbyshire factory to make it the sole European centre for making its next hatchback, creating up to 1,500 jobs.