How to judge if changing countries will pay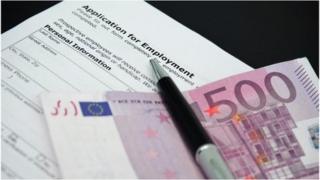 "As a maths professor it was a no-brainer - it was obvious I was going to be be better off. I didn't do a cost-benefit analysis for the move."
Simone Sbarglia went from Rome to the US to work at the IBM Research Centre in computer science in Westchester, 40 miles (64km) out of Manhattan in New York State.
He plainly did not "do the math", but perhaps in his case it was not necessary.
As he says: "A PhD student in the US gets as much as a full professor in Italy."
After the getting the job, the visa and accommodation are the next important hurdles to clear, but the money is at the heart of any decision to move - after all, it would have to be some dream job or location for individuals to up sticks for a lower standard of living.
And for most people, more thorough research is needed.
"I was working with a chap who was moving down to Sydney. No-one in their right mind would think Sydney was more expensive than London, but when we did a comparison it was Sydney 1.7 to London 1 - meaning Sydney was 70% more expensive than London," says Marc Burrows, UK head of KPMG's International Executive Services practice that assists companies with mobile employees.
"We got that from an official cost of living analysis provider - we didn't just go down to the shops. Our impressions of costs are often formed from a time when the exchange rate was very different."
'Attention-grabber'
Australian himself, he highlights the exchange rate as one of the chief issues to bear in mind when considering a cross-border move.
Marc came to the UK via Zurich, where the strengthening of the Swiss franc, like the Australian dollar in recent years, has produced bubbles in living costs relative to other major centres.
He says that the number one factor for most is the tax rate: "After all it is the biggest deduction from gross compensation. It is definitely an attention-grabber."
Marc's personal experiences add depth to the advice he provides for the many people KPMG shifts between countries.
"People often get tricked into looking just at the headline marginal tax rate - they think it is the only thing they need to compare.
"Take Switzerland, income tax rates are generally lower but it taxes wealth in a way the UK does not. The UK has capital gains tax - Switzerland generally does not for private persons.
"Social security works differently. For individuals it is more expensive to go to Switzerland. You will pay 5.15% in Swiss employee social security contributions on higher marginal levels of income, compared with 2% in the UK.
"For companies though, employer social security contributions are far cheaper in Switzerland. Again, it costs 5.15% but look at the UK employer rate, that's 13.8%.
But he warns that is often not the best yardstick to use: "It could be the situation that the winner in terms of your purchasing power is not the country with the lowest tax rate.
"When I moved from Switzerland to London, even though the headline UK tax rate is much higher, the cost of basic food and drink was far lower.
"And childcare, that was a big one for us. That is a lot cheaper in UK, quite a substantial difference. Switzerland was 60% more expensive."
Property
The actual cost of the move itself can be a major burden, although companies give various allowances and support packages that depend on seniority and length of planned stay.
Despite being a management accountant in Melbourne for an energy company, Simon Cook, like Simone Sbarglia, did not do a detailed cost-benefit analysis. But, he says, he would not generally recommend a move on such scanty information.
"Other people should do a cost-benefit analysis. I've heard of people emigrating to Australia that haven't actually been here before."
He did apply his expertise to one of the important areas highlighted by Marc Burrows: "As an accountant, I looked at the purchasing power parity when considering the move, which highlighted property as being more expensive."
And, like Marc Burrows, he says the exchange rate is of great importance: "Understand the exchange rate. If you're moving from Dublin to Dubai, for example, try to understand that and house prices, which direction the two countries are going in."
He adds: "Tax: again, as an accountant I did look at effective tax rates. In the UK, there is a £7,000 ($10,900; 8,300 euros) tax-free allowance. That is A$7,000 in Australia, about half the amount, so tax-free you are worse off. But, there are ups and downs, for example national insurance rates are much lower in Australia.
"Also, look at private healthcare... and I looked at average salaries for my profession, just to make sure we weren't any worse off."
Simon's other research included looking at expat websites and publications, some of which give a countdown checklist of things to do with 12 months to go.
Start-up cash
One attempt to be thorough, though, backfired when he started the process of opening an Australian bank account in the UK.
"You need so much money for your initial start up it is worth making sure that you maximise the rate you receive for your currency."
Simon recommends using a currency company rather than using your bank, which can cost you 8-10% more.
But although he had tried to get a head start and avoid relying on his credit card for initial costs, it backfired: "We actually found it pretty straightforward to get a bank account set in up in Australia from the UK. But we got halfway through and then it got very complicated.
"Our cards were supposed to be ready to be picked up, but they weren't ready. Because they were ordered we still had to wait for those cards where it would have been almost instant if we'd done it on the spot upon arrival.
"And there was no option to get a chequebook online, face to face we could have arranged that in a week rather than three weeks."
Smooth ride
Instead of websites and publications, Simone Sbarglia was given a checklist from his employer in the US, IBM, involving things like opening a bank account, getting a social security number in the US, a visa and other associated paperwork.
He says he had an almost hitch-free move to the US, even without having a credit record in the US, generally an essential for opening a bank account.
"Once I got there I went to local branch of Citibank, there was a person at IBM who helped with relocation so I could go there and open an account. It was pretty straightforward from that point of view."
But even he said he spent the first few weeks using credit cards for a deposit for accommodation and everyday needs.
After that, the move was plain sailing: "The lab employs 2,500 people in that area. It's not New York City. In that area it really means a lot for the other businesses there.
"If you go anywhere with an IBM badge, the doors open for you - extending to free access to museums and cultural events.
"Even when I needed a car, IBM helped. And as for the tax, it is so simple. You pay $30 and it is done for you. It is pretty impressive for someone who comes from Italy. It was definitely much, much easier - there is no comparison."
Pitfalls
The level of help Simone received was almost comprehensive, and there were no hitches.
But even moving within an organisation can throw up some surprising problems.
Visas are not necessarily expensive, but small mistakes could prove costly.
Take Marc Burrows' move to Zurich: "Moving from Australia to Switzerland, we uncovered one thing that had been cocked up. The mistake was that they applied for a visa that was easier and quicker to obtain. But the impact was my wife could not work.
"So having moved from Sydney with my wife on a job level pretty much at my own level, we got to Switzerland and found she could not work at all.
"In the end it got fixed - but through dogged determination and a little luck."
Simon Cook was wary of the visa process, and applied for his using an agent: "It increases the cost by a reasonable amount, but if you fill in the forms wrongly - even if there's just one thing wrong - the whole lot can come back to you. The agent cost 25% of overall costs, but that was a good investment."
Best tips
Using an agent for a visa is Simon's best tip.
Simone Sbarglia's is: "Work for IBM - that's a good idea."
Although he adds: "I was privileged - it is not an average case."
Marc Burrows picks a more emotional one, but get that wrong and the costs can be huge for all parties: "It is a common killer that the spouse is not helped to adjust or otherwise settle in.
"A chap came from the US firm to Switzerland to work for us. He found an apartment for him and his wife to live in. Somehow he found one that did not have a kitchen sink in - the most bizarre thing you've ever heard of - but he was contracted in to it.
"A month later his wife turns up and finds she's locked into the lease on this flat with no sink.
"After two months she left, and so did he. The whole thing was a very expensive disaster.
"You can't always build common sense into the process."