House repossessions to rise in 2012, lenders say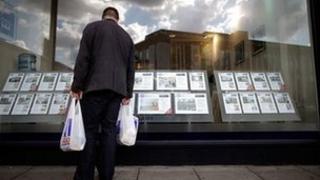 Higher unemployment is likely to lead to a rise in house repossessions and mortgage arrears in 2012, the Council of Mortgage Lenders (CML) has warned.
In its forecast, the CML suggests that repossessions will go up to from 37,000 this year to 45,000 next year.
Property sales and mortgage lending are also likely to fall further, it says.
The CML's forecast of just 825,000 homes being sold in the UK next year would put sales at their lowest since modern records began in 1978.
The lenders' organisation said the higher level of repossessions would still be lower than in 2009, and much lower than during the economic recession of the early 1990s.
But the CML's chief economist Bob Pannell said the prospects for mortgage lending and the housing market were "highly uncertain".
"The household sector has been under financial pressure for some time, as a result of falling real incomes, and more recently higher unemployment," Mr Pannell said.
"This is likely to unwind some of the improvement in mortgage arrears we have seen over the past two years and lead to a somewhat higher level of possessions in 2012."
Financial stress
The CML thought a year ago that arrears and repossessions would take a turn for the worse during 2011.
But that prediction was confounded by the continued low level of interest rates, and forbearance by lenders.
Both factors have combined to take the pressure off homeowners who have been struggling to pay their mortgages.
Now though, the rising level of unemployment is forecast to increase the level of arrears and tip more borrowers over the edge.
"Over recent months, as fiscal cuts have begun to be felt, the UK has seen a sharp increase in headline unemployment figures, and the Office for Budget Responsibility (OBR) envisages a higher level of joblessness persisting through next year and beyond," the CML said.
"With higher unemployment and a prospect of real incomes stabilising at best over the course of the year, we should expect to see increased signs of financial stress."
Would-be home owners are also predicted to find life harder next year.
Stricter mortgage criteria seen since 2008 have restricted lending severely, especially to first-time buyers, and as a result the level of home sales has been running at half that recorded a few years ago before the onset of the banking crisis.
The CML warns that this mortgage drought may become even worse, as banks find it harder to raise funds to lend.
"As a by-product of sovereign debt worries, lenders face challenging conditions in wholesale funding markets, and these could have negative effects on the cost and availability of UK residential mortgages through some or all of next year," the CML warned.