Olympus retains listing but shares fall again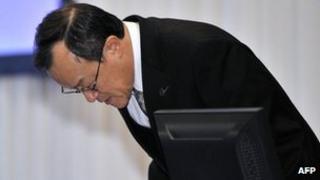 Japan's scandal-hit camera maker Olympus has retained its listing on the Tokyo Stock Exchange but has seen its shares fall sharply again.
It filed five years' worth of reports on Wednesday, just three hours before a deadline set by the Tokyo exchange.
However, Olympus's stock fell 20.8% on Thursday as investors worried that the company may be running short of cash.
Olympus president, Shuichi Takayama, said it would consider tie-ups with other firms to strengthen its finances.
"Capital adequacy ratio is a big problem, and we are considering how we can overcome it," he said in a press conference on Thursday.
"We are considering various options, including a capital tie-ups and operational or sales tie-ups," he added.
Losses
In November, the camera and medical equipment manufacturer admitted that it had been hiding losses of $1.5bn (£968m) over the last two decades.
And in its latest accounts for the six months to the end of September the company declared a loss of 32.3bn yen ($414m; £267m).
Mr Takayama blamed the latest losses on the economic downturn and Thai flooding.
In its revised accounts the firm admitted that its net assets were valued at just 46bn yen, down from a re-stated 225bn yen in March 2007.
The firm's embattled president also said he would consider re-hiring former chief executive Michael Woodford.
Mr Takayama was on the board which voted unanimously to fire Mr Woodford after he questioned the firm's original accounts.
"On what will happen to Mr Woodford, it is certain that he is among the options," said Mr Takayama.
However, Mr Woodford, who has called for the board to resign before choosing a successor, said he opposed tie-ups with other firms.
"I am very fearful of the current management working with parties to look for strategic alliances, which would mean in the end the loss of our independence," he said.
Accounts
Mr Woodward has since returned to Japan to seek his re-appointment to the firm which fired him for raising questions about fees paid in the purchase of British medical equipment maker Gyrus Group in 2008.
The fees for financial advice and acquisitions were designed to keep losses off the company's books.
The Tokyo exchange may still de-list Olympus if it feels the firm's actions were sufficiently serious.
The ensuing investigations have caused Olympus shares to fall and forced its chairman Tsuyoshi Kikukawa to step down.
It remains unclear how much of the board will eventually resign.
Mr Takayama has said that he and fellow directors will make way for a new board to be elected by shareholders at a meeting in March or April.
However, he said not all members may need to go and has refused to speculate over his own position.
"There is no need for those who are not found responsible (of wrongdoing) to resign," he said.
No one has yet been charged in the scandal.
.