Eurozone faces winter recession, Ernst & Young says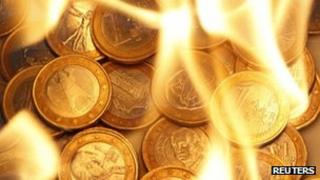 The eurozone is facing a "bleak" winter, audit firm Ernst & Young says.
A "mild" recession is likely in the first half of next year, leading to economic growth of just 0.1% for the whole of 2012, it predicted.
Ernst & Young also said unemployment in the eurozone was unlikely to fall below 10% until 2015.
Meanwhile, Greece - Europe's most indebted country - said that it was on course to have its worst recession ever in 2011.
Greek Prime Minister Lucas Papademos warned on Wednesday that his country's contraction would be greater than the 5.5% currently forecast.
Greece's economy shrank by 4.5% in 2010, when it received its first bailout from the EU and International Monetary Fund.
'Uncertainties'
Last week, 26 of the 27 members of the European Union backed new fiscal rules to keep budgets in line, with only the UK abstaining.
But many fear that the budget pact will still not be enough to prevent more countries from seeking a bailout.
On Wednesday, the euro fell below $1.30 for the first time since January.
"The reforms agreed at the summit on 9 December were a step in the right direction and the response seems to have been mildly positive," according to Ernst & Young.
"Yet investors remain very concerned about the commitment and ability of eurozone governments to implement reforms quickly."
The audit firm predicts that eurozone growth will recover to between 1.5% and 2% in 2013.
"The uncertainties hanging over the Eurozone can only continue to dampen the enthusiasm for European companies to make long term investment and recruitment decisions," said Mark Otty, Ernst & Young's managing partner for Europe, Middle East, India and Africa.