Bank of Mum and Dad keeps lending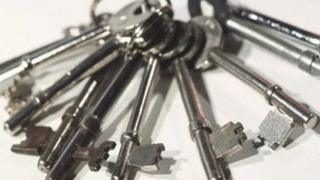 Tradition has it that the keys to the family home are handed over to a young man or woman when they reach the age of 21.
But the tradition has become obsolete. Nowadays, it may be more appropriate for sons and daughters to give the keys to their first homes to their parents.
That is because new figures show that nearly two-thirds of first-time buyers receive financial help to get on the property ladder.
And, with the average first-timer aged 33, that can affect the family dynamic long after children fly the nest.
'Endangered'
The number of first-time buyers in the UK has plummeted compared with pre-financial crisis levels.
There are now around 200,000 a year compared with around 500,000 before 2008, the Council of Mortgage Lenders (CML) says.
One housing group - Rightmove - suggests that those stepping onto the property ladder will be "endangered species" in 2012.
The main reason, according to both Rightmove and the CML, is the level of deposit that careful lenders require buyers to raise.
CML figures show the average deposit at present is 20% of the value of a property, which equates to a typical deposit across the UK of £26,000 - more than many people are paid in a year.
Housing minister Grant Shapps, who recently launched the government's housing strategy, says that an "entire generation" have been blocked from the housing ladder.
One frustrated buyer is Russell Tams, who has been renting for more than 10 years and sees little prospect of that changing any time soon.
In addition, buying in London would mean having to purchase a one-bedroom flat in a "bad area", the 30-year-old says.
"It is frustrating to see people having to ask family and friends," he says.
"This is something that would have to be a last option for me."
Tipping point
Many are taking that final option - going cap in hand to the Bank of Mum and Dad.
In the third quarter of the year, 34,000 - or 64% - of first-time buyers were financially "assisted" or returners to the housing market. The remaining 19,000 were unassisted.
For those aged under 30, who have had less time to save, just 22% of first-time buyers entered the housing market under their own financial steam. The proportion is around 8% for those aged under 25.
Compare that to the same three months in 2007, when 32,000 - or 31% - first-time buyers were assisted or returners, and the other 71,000 received no financial help. Some 64% of those aged under 30 were unassisted, the CML figures show.
The tipping point, unsurprisingly, came at the time of the banking crisis.
In 2007, deposits averaged at 10%. Then, during 2008, deposits started to rise. Although prices started to fall, it made house buying less affordable for youngsters facing a more uncertain financial future.
In the first three months of 2008, some 58% of all first-time buyers were unassisted. By the final quarter of the year, this had dropped to 44%. The lowest point was 33% in the second quarter of 2009.
The regional variation across the UK tends to mirror house prices. For example in the North of England, 43% of first-time buyers did not require financial assistance from family or friends in 2011. In Northern Ireland, it was 44%.
This compares to 29% in Greater London, where prices have bucked the national trend and continued to rise throughout 2011, according to many surveys.
Outlook
So how might business at the Bank of Mum and Dad look in the coming years?
The CML expects it to be brisk, predicting that lenders are likely to continue to ask for relatively high deposits.
"At the same time, wage growth is sluggish and pressures on household budgets are continuing to intensify," the lenders' group said.
"While these factors continue to bear down on the ability of young people to save for a deposit, the Bank of Mum and Dad is likely to continue to see a lengthy queue of applicants."
That is likely to mean a swathe of homeowners aged in their 30s and 40s continuing to be financially reliant on their parents.
This older generation should expect greater financial and emotional strains as a result, according to Michael Connellan, spokesperson for the Family and Parenting Institute.
"The baby boomers know they need to help their adult children get on the property ladder. Their aspirations for their children have cooled somewhat - there is less of a dream of prosperity for their children and more of a simple wish to help them get by," he says.
"The boomers often still have elderly parents alive themselves, due to rising life expectancy. They can face a huge combined financial challenge of paying for elderly care and for the younger generation's mortgage down-payment. Evidence shows financial strains can increase conflict within couples, and so some boomers will be experiencing this."
How many would have predicted that when they received the keys to the family home at 21?