Morrisons to hire 7,000 for new stores and logistics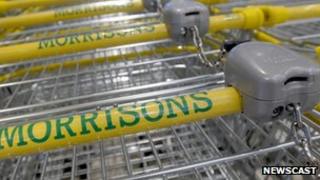 Morrisons has said it plans to hire more than 7,000 people, mostly to staff new outlets.
The supermarket chain wants to open 25 new branches next year.
Half the jobs at new stores are set to go to unemployed people, the firm said. Three-quarters are likely to come from the local areas they serve.
Some 300 new positions are also planned at Morrisons' new regional distribution centre at Bridgwater, supplying food in the South West and south Wales.
"Despite the difficult economic conditions, Morrisons continues to have ambitious growth plans and that means we will be searching for people to join us in the communities in which we operate," said human resources head Norman Pickavance.
"We're committed to training our new colleagues so that they have the capability to move from the shop floor to the top floor."
Last month, Morrisons announced a 4.6% rise in sales in the three months to 30 October.