Car insurance costs to be investigated by OFT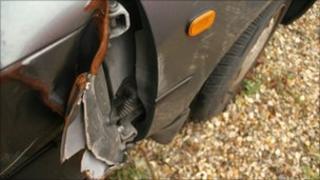 The cost of motor insurance is to be investigated by the Office of Fair Trading (OFT).
The regulator first started looking at the rising cost of premiums in September, after an outcry about the system of referral fees.
Those involve insurers stoking up claims against themselves by selling details of their policy holders' accidents to solicitors.
The OFT will also examine the cost of accident repairs and replacement cars.
Sonya Branch of the OFT said: "Our concerns relate to the provision of third party vehicle repairs and credit hire replacement vehicles to claimants, where we suspect companies may be competing to extract money from each other rather than keeping premiums as low as possible and providing car owners with value for money.
"By carrying out a market study, we aim to clarify whether a market investigation reference to the Competition Commission is appropriate," she warned.
New findings
Despite its concerns, the OFT said the cost of motor insurance had not been rising as fast as had been previously claimed.
Earlier this year, the AA had reported that average premiums had risen by 40% in the year to April.
But the OFT says premiums have gone up by rather less - by 12% between 2009 and 2010 and by a further 9% in the first nine months of 2011.
Even so, its preliminary evidence gathering has highlighted a variety of potential problems which inflate premiums, not just the issue of referral fees.
"Private motor insurers responsible for meeting third party claims for credit hire replacement vehicles and/or vehicle repairs appear to have only limited control over the choice of provider and appear to find it difficult to assess the extent to which the costs claimed are reasonable," the OFT said.
The regulator says that in 2010, the average cost to an insurer, when a claimant choses to hire a replacement car from a specialist firm, was between £1,200 and £1,500.
But if the insurers had arranged a like-for-like replacement for their customers themselves, the cost would have been much cheaper, at between £400 and £600.
This next stage of the OFT's inquiry could lead to the selling and pricing of motor insurance being investigated by the Competition Commission, which would have the power to enforce significant reforms.
The government has already decided to outlaw the payment of referral fees in personal injury cases in England and Wales.
The Association of British Insurers (ABI) said it welcomed the OFT's forthcoming study, and hoped it would lead to lower costs and premiums.
"The industry has long said that there are unnecessary costs in the system and that there are inefficiencies that need to be addressed - from personal injury to credit hire to credit repair - and we are pleased that the OFT have recognised this in their report," said Nick Starling of the ABI.