Lloyds names Co-op as preferred buyer of bank branches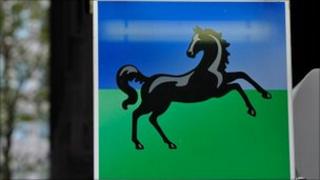 Lloyds says its preferred option for the sale of 632 bank branches is to sell them to the Co-operative Group.
The mutually-owned Co-op had been in competition with new bank venture NBNK for the assets.
Lloyds will now enter exclusive talks with the Co-op, which runs a financial services division along with a supermarket retail arm.
It comes as Lloyds said boss Antonio Horta-Osorio was to return to work from sick leave on 9 January.
All Cheltenham & Gloucester branches and all Lloyds TSB Scotland branches are earmarked to be sold.
In addition, a selection of Lloyds TSB branches in England and Wales would be transferred to the Co-op.
Taking over the Lloyds retail branches would give the Co-op the chance to become Britain's seventh-biggest bank.
It is hoped that a deal will be concluded by the end of the first quarter in 2012.
Lloyds is selling a business with an estimated 4.6% of the UK current account market. It includes 632 branches, £36bn of deposits and about £47bn of mortgages and loans.
It is being forced to sell the branches by European Commission competition authorities.
Currently, Lloyds is 41%-owned by the UK taxpayer.
'Full recovery'
Mr Horta-Osorio has been on extended leave because of a stress-related illness.
Independent medical specialists and the board have been investigating what led to the 47-year-old's absence.
The bank's chief financial officer, Tim Tookey, temporarily took over as chief executive in Mr Horta-Osorio's absence.
Big investors had been generally impressed with Mr Horta-Osorio's performance before he was forced to bow out.
Lloyds' most important shareholder is UK Financial Investments, which looks after the taxpayers' stake in the bank.
Sir Win Bischoff, Chairman of Lloyds Banking Group, said: "The board and I are pleased that Antonio has made a full recovery.
"We are looking forward to his return after the New Year to continue to lead the group and build on the strong progress he has already made in transforming the business and delivering the strategic plan."