Olympus submits earnings to try to avoid delisting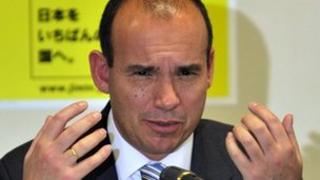 Japan's scandal-hit camera maker Olympus has filed corrected earnings reports to try to avoid being delisted from the Tokyo Stock Exchange.
Five years' worth of reports were accepted by financial regulators three hours before the deadline.
Olympus was asked to refile its earnings because of deceptions and accounting irregularities.
Auditors signed off on the reports with qualified opinions, saying they could not confirm all the money flows.
"We were unable to get sufficient and appropriate proofs for auditing on specific assets and amounts," said accountants KPMG AZSA.
The report for the six months to the end of September showed a net loss of 32.3bn yen ($414m; £267m).
The camera-maker reported that its net assets were valued at just 46bn yen, down from a re-stated 225bn yen in March 2007.
The Tokyo Stock Exchange said it was keeping Olympus on its watchlist for possible delisting.
In November, Olympus admitted that it had been hiding losses of $1.5bn (£968m) going back almost two decades.
The deception came to light when former president and chief executive Michael Woodford challenged payments at the company.
Elaborate deception
Mr Woodford was fired in October after raising doubts about massive fees paid in the purchase of British medical equipment maker Gyrus Group in 2008.
He returned to Japan this week to meet investors to try and head a turnaround at the company.
Olympus has seen its fortunes slide after it fired Mr Woodford.
The ensuing investigation caused Olympus shares to plunge and forced its chairman Tsuyoshi Kikukawa to step down.
The board of the company has said it will step down but wants to choose its own successors before going. A decision that Micheal Woodford says they should not be allowed to make.
In refilling its earnings, Olympus sought to reassure investors, saying that its assets exceeded its liabilities in each of the financial years dating back to 2002/03.
No one has yet been charged in the scandal.
Olympus has said several top executives were involved in the scheme and has promised to investigate former and current executives and auditors, and to pursue possible criminal charges.
Fees for financial advice and acquisitions were part of an elaborate deception to keep the massive losses off the company's books.