US Federal Reserve continues 'Operation Twist' stimulus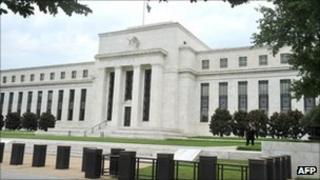 The US Federal Reserve has left interest rates unchanged and said that it will continue with its bond-buying stimulus programme.
However, one member of the Fed's rate-setting dissented and wanted more stimulus to the economy.
The Fed said it "continues to expect a moderate pace of economic growth over coming quarters".
Rates in the US are at a record low of between zero and 0.25%, and have been that way for three years.
The US unemployment rate dropped sharply to 8.6% in November, its lowest level in two-and-a-half years, from 9% the month before.
"While indicators point to some improvement in overall labor market conditions, the unemployment rate remains elevated," the Fed said in a statement.
Referring to the eurozone debt crisis, the Fed said: "Strains in global financial markets continue to pose significant downside risks to the economic outlook."
In September, the Fed announced a $400bn (£254bn) bond programme, dubbed "Operation Twist" by observers.
Under the programme, the Fed said it would sell about $400bn of short-term bonds and buy longer-term debt. Buying bonds pushes the price up and lowers the interest rate, or yield.
The Fed hopes the move will help to keep long-term interest rates low, thereby boosting mortgage lending and loans to businesses.
Unlike quantitative easing, the policy does not inject any new money into the economy.