US charges eight in Siemens foreign bribery case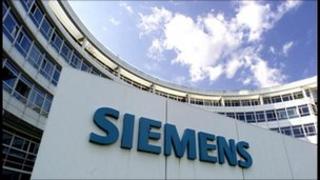 US authorities have charged eight former executives at German industrial giant Siemens in connection with a $100m (£64m) foreign bribery scheme.
The charges relate to a $1bn contract to produce national identity cards in Argentina.
Among those accused are a former member of Siemens central committee and two former heads of its Argentine unit.
"Today's indictment alleges a shocking level of deception and corruption," the Department of Justice said.
In 2008, Siemens agreed to pay $1.6bn to the US and German authorities to resolve charges of corrupt practices in connection with the case, and helped in the investigation of those charged, officials said.
US assistant attorney general Lanny Breuer said the executives had committed themselves to paying more than $100m in bribes to high-level Argentine officials to win the contract.
About $60m was paid and at least $25m funnelled through the United States, Mr Breuer said.
The former Siemens executives and agents were indicted by a grand jury in a federal court in New York and also face charges from the Securities and Exchange Commission.
They were charged with conspiracy to violate the US Foreign Corrupt Practices Act, wire fraud and conspiracy to commit money-laundering.