US retail sales growth slows down in November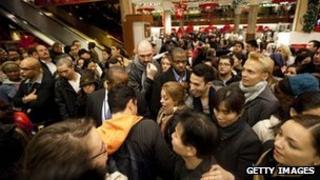 US retail sales crept up another 0.2% in November according to official data.
Compared with a year earlier, they were 6.7% higher, in line with recovery rate seen since early last year, the Commerce Department said.
Markets had expected a 0.5% increase after shops reported strong business during Black Friday - the day after Thanksgiving and traditional start of the sales period.
It was the slowest monthly growth rate since July.
However, the October sales figure was revised up to show 0.6% growth for the month.
Unsustainable
According to the latest November data, electronics, internet sales and clothing all did well, symptomatic of the strong sales seen on Black Friday.
But sales fell at building materials and grocery stores, as well as at petrol stations, although the latter may reflect falling petrol prices.
"[The data] suggests that optimism over firm Black Friday sales following Thanksgiving may have been overdone," said economist David Sloan of IFR Economics.
"The consumer still faces severe headwinds, most notably recent weakness in personal income growth restraining spending power, and uncertainty over whether the 2011 payroll tax cut will be sustained in 2012."
Separate household consumption and income data has indicated that the rise in spending in recent months has been driven by consumers spending a bigger share of their income, rather than by them having much more income to spend.
As such, most economists expect the growth rate of spending to taper off somewhat in coming months.
"November's modest rise could be the start of a period in which households start to spend more within their means," said Paul Dales, economist at Capital Economics, who points to the unsustainable trend of falling savings.
"If households had brought some of their holiday spending forward to take advantage of Black Friday deals, then sales in both December and January may be just as weak," he also cautions.
Business confidence
Meanwhile, in more positive news for the US economy, business confidence among small businesses has risen, according to a latest monthly poll.
The National Federation of Independent Business said its regular confidence index rose to 92 in November from 90.2 the month before.
It still remains well below its historic mid-point of 100, but is well up from its recession low of 81.
Most encouragingly, hiring plans by the businesses surveyed continued their steady rise. Small businesses account for a disproportionate share of job creation in the US relative to their turnover.