Intel cuts revenue forecasts because of shortages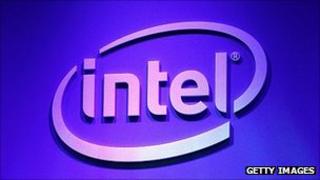 Computer chip maker Intel has said it will miss revenue forecasts because of a shortage of hard disk drives.
Intel, the world's largest maker of microprocessors, now expects to make revenues in the fourth quarter of $13.4bn to $14bn (£8.6bn to £9bn).
Intel shares fell more than 4% on news of the reduction from the $14.2bn to $15.2bn previously forecast.
Floods in Thailand, where several computer manufacturers have plants, have seriously disrupted production.
Intel's statement said: "The worldwide PC supply chain is reducing inventories and microprocessor purchases as a result of hard disk drive supply shortages.
"The company expects hard disk drive supply shortages to continue into the first quarter, followed by a rebuilding of microprocessor inventories as supplies of hard disk drives recover during the first half of 2012."
Research firm iSuppli has said it expects global PC shipments to total 84.2 million in the first three months of 2012, down from a previous estimate of 88 million.
Tom Kilroy, senior vice president at Intel, told a news conference: "In the last two weeks, as the supply became more apparent, we saw a substantial change in our order rate.
"Most of our customers are concerned the shortage will continue - especially through the early part of the first quarter," he said.
Analysts were not surprised that Intel cut its forecast, as recent news from the industry generally had prompted a lowering of expectations.
Mark Lipacis, analyst at Jefferies, wrote that Intel's revenue cut was only a matter of time.
Last month, AMD said that it would cut 1,400 jobs because of a slowdown in computer sales and manufacturing delays. Last week Texas Instruments lowered its fourth-quarter guidance.