Virgin and BA owner IAG fight to buy BMI from Lufthansa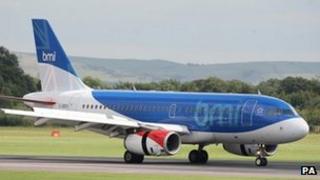 The owner of British Midland International (BMI), Lufthansa, has said it has not yet decided on a buyer for the carrier.
In November the German airline signed an agreement with BA owner, International Airlines Group (IAG), to work towards a final deal.
However, the agreement was not exclusive and Lufthansa has now said it also has a deal with Virgin.
It means that both carriers still have a chance of buying BMI.
"With IAG we signed an agreement to look into a purchase of BMI and we have now also signed a similar agreement with Virgin," a Lufthansa spokesperson told the BBC.
The spokesperson confirmed that the Virgin agreement was signed in "late November", weeks after the IAG deal.
IAG said it continued to negotiate with Lufthansa about the sale of BMI.
"Lufthansa has kept us appraised of other parties involved in the process," IAG said.
It means Virgin and IAG can now go forward with due diligence on the possible purchase.
Both Lufthansa and IAG shares fell on Monday.
By early afternoon Lufthansa shares were down 4% and IAG down 3.3%.
Heathrow slots
Lufthansa has said it would like to have a decision by the end of the first quarter of next year.
BMI, which is based in Castle Donington in Leicestershire, operates flights to Europe, the Middle East and Africa.
It has 8.5% of the landing slots at Heathrow, the UK's busiest airport, which are seen as the main attraction of a purchase.
If IAG were to purchase the group it would give it control of more than half the landing slots at the airport.
However, rival Virgin Atlantic has said the deal would be uncompetitive.
"British Airways' hold over Heathrow is already too dominant," a spokesperson said after the IAG deal was announced.
Any deal would have to be cleared by competition authorities.
For Virgin a deal may make it easier to channel passengers from European destinations onto its transatlantic flights.
Loss-making
Lufthansa bought the 50% of BMI owned by its then chairman Sir Michael Bishop in 2008, taking its holding to 80%.
It decided to sell it as the carrier's losses widened.
BMI has reported a loss of 154m euros ($213m; £133m) for the first nine months of this year, hit by rising fuel costs and social unrest in some of its destinations in North Africa and the Middle East.
It also has a no-frills subsidiary called BMIBaby and the Aberdeen-based BMI Regional.
BMI announced on 28 October that it was in advanced talks to sell BMI Regional to a UK-based investor group that would continue to run it as an independent airline.