Brain drain to brain gain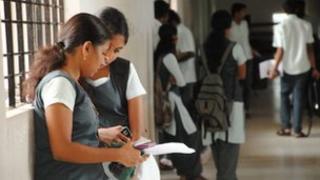 The hands of the clock at the front of the classroom brush past 9:30am.
The 20-year-old Sreehari Prasad is hunched over a wooden bench, flicking through a booklet of bright white paper and scribbling notes judiciously.
This test marks the start of the home stretch for Sreehari. This time next year he will be a qualified civil engineer.
For decades Kerala has produced millions of young, skilled professionals like Sreehari, but its workforce has lacked the capacity to accommodate all of them.
Some estimates suggest unemployment in the state is three times the national average.
To get work, many young professionals must accept that they will either have to do something different to their specialisation or move away from home.
According to Dr David Peter, Principal of the School of Engineering at the Cochin University of Science and Technology (CUSAT), only one in five of his graduates will find work at home in their field.
With the odds against him, Sreehari concedes that he may follow in the footsteps of hundreds of his peers and get an IT job instead - one industry that recruits heavily in Kerala.
Young and jobless in numbers
75 million
or 12.6%
of young people are
unemployed worldwide
Three times
more likely to be jobless
7.5 million
are not in education or training
Youth unemployment is highest in
North Africa - 27.9%
and lowest in
East Asia - 9%
"We have to forget some of the engineering we have studied in the last four years, and we have to learn new things, entirely different things to what we have studied in civil engineering," explains Sreehari. "Because they just need brains who work on computers."
Leaving on a jet plane
During the 1990s, Kerala experienced a spike in the number of its young, educated workers leaving home in search of opportunity.
For decades they have travelled to other Indian states like Bangalore, or to international destinations like the Gulf or Europe, where up until recently jobs have been plentiful and the financial incentive good.
The state government acknowledges that Kerala's economy has benefited greatly from the incomes sent home by remittance workers.
It claims that the standard of living for millions of families has improved with the help of just one remittance salary.
Experts say that the needs of an increasingly non-resident workforce have, over time, led to the development of major infrastructure in Cochin.
One example that many in the city point to is the international airport.
V.J. Kurien, the airport's Managing Director, says the facility has grown 23% on average every year since it opened.
"The way we have grown from 400,000 in 1998/1999 into to 4.3 million in 2010/2011 - that speaks volumes about it.
"It has been the non-resident Keralites from Kerala, travelling mainly to the Gulf countries, who have been instrumental in the growth of this airport."
While increased tourism in the region has certainly contributed to the airport's growth and popularity, Mr Kurien insists that it is Kerala's remittance workers that have been the main thrust behind its expansion.
He adds that the airport was built as a joint public-private partnership - the state government contributed some funds and the rest of the money was donated by remittance workers.
Keeping them home
The government of Kerala is now trying to stem the flow of its young, skilled workers.
And one way it is trying to keep its best and brightest at home is through the establishment of business parks and knowledge cities.
The aim - to attract investment and generate jobs in sectors such as engineering.
Using a public-private partnership model, the Kerala State Industrial Development Corporation (KSIDC) is building a sprawling business zone in Cochin that includes electronic hardware manufacturing facilities, jewellery production spaces and biotechnology labs.
"Tourism, healthcare, then logistics, then IT, electronic hardware, then gas-based industries and light engineering," says T.P. Thomas Kutty, Executive Director of KSIDC Cochin.
"Across these sectors the idea is to create five million jobs in the state."
This is a long term project, but Mr Kutty hopes that in the coming decades such business centres will help to brighten Kerala's business image and reverse the brain drain that has hampered its growth.
Building the dream
The latest drive to retain talent and boost the local economy is being helped by Kerala's geographical location.
In February, Dubai-based DP World began operations at a new international trans-shipment terminal in Cochin.
The port is only partially built, and services vessels predominantly working between India and Sri Lanka.
However once complete K.K. Krishnadas, the Chief Executive Officer of DP World Cochin, says it will act as a key trade link between India and China, and European destinations.
In the coming years, Mr Krishnadas also expects the port to generate more than 600 jobs, permanent and contract, for local skilled professionals, such as engineers.
If all goes according to plan, the state government and big business may be on the way to turning Kerala's traditional brain drain into brain gain.
The port, along with a new LNG terminal and business parks, could go a long way to help revive the desires of young people to live and work at home.
Many hope that this will help Kerala to industrialise at a faster pace and transform it into a state that is not only able to produce India's best and brightest, but keep them too.