Real Madrid boss Mourinho stars in Special One cartoon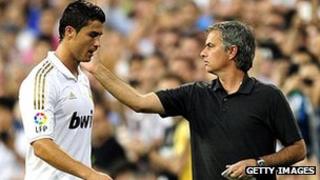 Former Chelsea boss and current Real Madrid manager Jose Mourinho is set to star in his own cartoon series.
The series, called "Mourinho & the Special Ones", will feature the Portuguese self-titled "special one".
In it he will help children develop as football players and human beings.
Portuguese-based firm Sports Stars Media is seeking a listing on London's AIM stock market in February 2012 with a fundraising of up to £1.75m and market capitalisation of about £3.75m.
Multiple honours
The "sports personality animation business" is looking for potential investors in London, where Mourinho enjoyed success with Chelsea, winning two Premier League titles, two League Cups and one FA Cup.
Sports Stars Media has the rights to use Mourinho's image for the purposes of developing and marketing the CGI animation.
Mourinho introduced himself as the "special one" when he first arrived at Stamford Bridge in June 2004.
As well as success at Chelsea, he has also won the Champions League twice, with Porto and Inter Milan.
The proposed cartoon featuring him will revolve around a football school, where youngsters will be coached by the 48-year-old.
Mourinho's career has also been dogged by controversy, often due to his outspoken comments.
In 2005 he was called "an enemy of football" by Uefa's refereeing chief following a Champions League game between Chelsea and Barcelona.
On Saturday night Real Madrid lost 3-1 at home to Barcelona, and are currently second in La Liga to their Catalan rivals, but are equal on points and have a game in hand.