S Korea cuts economic forecast due to global outlook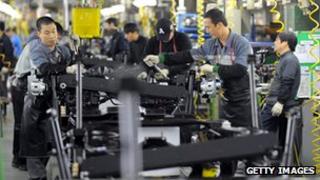 South Korea's government has surprised investors by cutting its economic growth forecast, due to a projected slump in exports.
The Ministry of Strategy and Finance says Asia's fourth-largest economy is likely to grow by 3.8% in 2011 and 3.7% in 2012.
Previously, it had forecast expansion of 4.5% for both years.
Meanwhile, South Korea's exports are set to slow to just 7.4% in 2012 from almost 20% in 2011, the ministry said.
Exports account for about half of South Korea's economy.
Global trade is expected to be hurt by economic weakness in Europe and America, two key destinations for South Korean products.
Last month, the Paris-based Organisation for Economic Cooperation and Development (OECD) downgraded South Korea's growth forecast to a level similar to the government's new figure.
It cited weak global and domestic demand.
In September, South Korea said it was planning to increase its spending for the next financial year in order to promote job creation, amid a wider downturn.