Eurozone plan is not the full solution, says IMF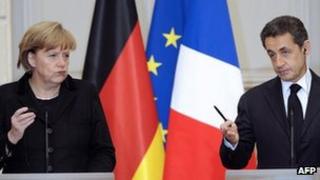 The International Monetary Fund's chief economist has called the agreement on closer European economic integration a step in the right direction, but not the whole solution.
Olivier Blanchard, speaking at a business conference in Tel Aviv, said it had though been "progress".
European leaders agreed on Friday to draft a new treaty on deeper eurozone economic integration.
The UK vetoed the plan after an opt-out on financial regulations was denied.
The IMF's Mr Blanchard said: "I'm actually more optimistic than I was a month ago, I think there has been progress."
"What happened last week is important: It's part of the solution, but it's not the solution."
He did not say what further steps were needed.
Mr Blanchard's comments were echoed by the Republic of Ireland's transport minister.
Speaking on the national broadcaster RTE, Leo Varadkar, warned that events would overtake leaders in coming weeks.
"Fiscal co-ordination is a good idea, and it's good that's happening, but it's not going to be enough to solve the problem that we have," he said.
EU leaders also agreed that eurozone states and others should provide up to 200bn euros (£171bn, $268bn) in bilateral loans to the IMF to help tackle the crisis, with 75% of the money coming from the 17 countries that use the euro.
Mr Blanchard said: "The commitment to give us 200bn euros makes a major difference in the sense that we can now go out and talk to other countries and say, 'the Europeans have given us money, can you help?'"
"Whether this gives us the whole bazooka or not, I hope so."