France nuclear giant to announce big loss - minister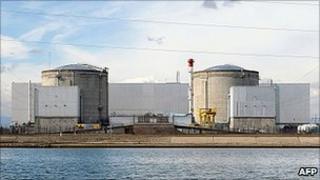 France's state-owned nuclear reactor maker Areva is set to announce large losses, the French industry minister says.
In an interview with a radio station, Eric Besson said: "I can confirm that Areva will announce losses. In all likelihood they will be big."
Areva's financial position was badly weakened in the aftermath of Japan's Fukushima nuclear disaster in March.
The company is also expected to unveil a new strategy this week.
Mr Besson gave no further details as to the scale of the losses.
Areva is widely thought to be about to write-down the value of its assets by more than 1 billion euros (£855m, $1.3bn).
The company's new chief executive, Luc Oursel, will tell investors how he will run the group as governments including Switzerland, Italy and Germany turn their back on nuclear generation after the Fukushima plant was hit by the earthquake and Tsunami.
Areva was already facing problems before that incident.
Its Olkiluoto nuclear project in Finland was delayed and uranium mines it bought in 2007 were performing below expectations.
France is the world's most nuclear-dependent country, with 80% of its power provided by nuclear, although this is not universally popular.
The Socialist presidential candidate has promised to shut almost half of France's nuclear reactors if he is elected.
Last week demonstrators protested outside Areva's headquarters in Paris ahead of this week's meeting.