RBS report: FSA's analysis of banks was 'deficient'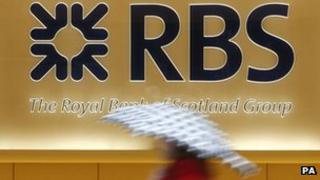 The UK's financial regulator will be highly critical of its own role in its report into the circumstances surrounding the collapse of the Royal Bank of Scotland, the BBC has learned.
Many aspects of the Financial Service Authority's work were "inadequate" or "deficient", Monday's report will say.
But the BBC understands the regulator will say that the ultimate failure of RBS in 2008 was a result of decisions made by the bank's management.
The FSA has yet to officially comment.
The report says that the FSA did not understand the wider banking system before the crisis, it states: "By 2007 the entire UK banking system was dependent on wholesale funding and therefore liquidity had become a huge issue and that the FSA failed to appreciate this."
The report will be particularly critical of the £49bn takeover of Dutch bank ABN Amro at the height of the financial crisis in 2007.
'Lacked skills'
RBS pressed ahead with the biggest banking takeover in history but ABN's main assets turned out to be all but worthless. It led to a £45bn bail-out of RBS by the UK government three years ago.
The report will say that in many respects its own staff lacked the skills to monitor banks as large and complex as RBS: "The FSA failed to foster the skills necessary to monitor the capital adequacy of the banks."
BBC business correspondent Joe Lynam has learned the report will say that internal checks and balances within RBS were flawed and that the FSA did nothing to prevent the deal, which almost ruined Britain's financial sector.
The report, carried out by the FSA and two City veterans, Sir David Walker who held senior positions at Lloyds TSB and Morgan Stanley, and leading lawyer Bill Knight, will say that the regulator carried out little fundamental analysis of the banks it was supervising before the financial crisis in 2007, and that many aspects of its work were either inadequate or deficient.
The BBC also understands that the government will welcome the report, with one senior source describing it as "compelling reading".
RBS, now 83%-owned by the UK government, has cut 27,500 jobs since the beginning of the financial crisis.
Last month it reported pre-tax profits of £2bn in the three months to 30 September, against a £1.6bn loss in the same period last year.
It warned of further job losses, and said the global economic slowdown was delaying its recovery.