Nightclub firm Luminar £45m deal 'saves 3,000 jobs'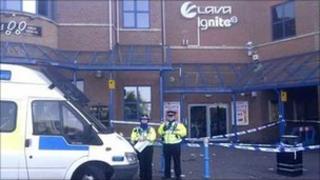 Nightclub operator Luminar has been bought in a £45m deal which is expected save 3,000 jobs across the UK.
The firm, which ran the Lava & Ignite, Oceana and Liquid clubs, went into administration with debts of £140m in October, owing more than £80m to banks.
Just days earlier, student Nabila Nanfuka, 22, of Neasden, north-west London, was killed in a crush at its Lava & Ignite nightspot in Northampton.
The company was bought by three leisure industry specialists on Friday.
Its new owners, Peter Marks, Alex Geffert and Joe Heanen, said there were plans to refresh many of the venues over the next two years.
'Huge confidence'
Mr Marks, a former executive of the company and Northern Leisure, said there had always been a "solid core business" within Luminar but, in common with many in the sector, it could not survive the economic downturn.
The company was hit hard by high levels of unemployment in its core market of 18 to 24-year-olds, the smoking ban and changes in licensing laws to allow pubs to stay open for longer.
"The bulk of the estate is performing well, as are other privately owned club and bar businesses," Mr Marks added.
"Luminar has a lot of good people and I am certain that with hard work, the right financial structure and an investment programme the company can look forward to a great future."
Mr Geffert is the former managing director of the Whitbread leisure and nightclub business, while Mr Heanen is founder and owner of nightclubs including Mbargo, Bunker and Sodabar.
Mr Heanen added: "As Britain's largest nightclub operator, which once boasted an enterprise value of over £1bn, Luminar is an integral part of the UK's nightlife industry.
"We have huge confidence in the business and are committed to developing a successful and profitable company."
Luminar was the largest UK nightclub owner by number of venues, with 75 clubs across the UK.
Administrators at Ernst & Young were appointed in October after lenders refused to extend a recent period of leniency on its debts.
Its assets are now made up of 66 operating nightclubs, most of which trade under the Oceana, Liquid and Lava & Ignite brands.